SALIDA: 2019-07-06

---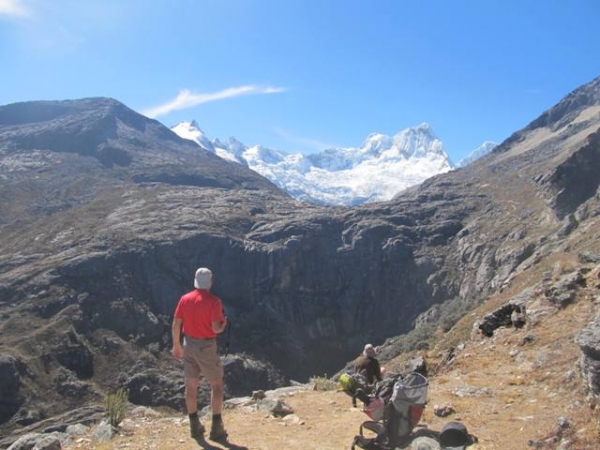 Alpamayo Circuit: This is a tremendous trek which avoids the more
frequented trails. It crosses a major pass almost every day as it encircles
many of the great summits of the Cordillera Blanca, the triple peaks of Santa
Cruz, Chacraraju, Pucajirca and of course Alpamayo. Our 9 day trek, preceded by
some early acclimatisation days, is remarkably sustained and amazingly varied
and always on good trails.

DAILY YTINERARY:

July 06: Huaraz / Transfer to Hualcayan Camp (2900m) Camp
July 07: Hualcayan / Trekking to Wishcash Camp (4300m) Camp

July 08: Wishcash / Trekking to Ruina Pampa Camp (3800m) Camp

July 09: Ruina Pampa / Trekking to Cruze Alpamayo Camp (4150m) C

July 10: Cruze Alpamayo / Trekking Cara Cara Pass (4830m) / Sajuna Camp
(4200m) Camp

July 11: Sajuna / Trekking Pucajirca Pass (4600m) / Jancapampa Camp (3600m) Camp

July 12: Jancapampa / Trekking to Laguna Huecrococha Camp (3950
Camp

July 13: Laguna Huecrococha / Trekking Pass Alto de Pucaraju (4650m) / Paria
Camp (4200m) Camp
July 14: Paria / Trekking through Quebrada Huaripampa / Transfer to Huaraz
Note.
Private departures are available on the dates of your choice. For more information and price writes to our:
info@alpamayoperu.com
/
alpamayoperu@gmail.com
---
In The Price Includes:
*Qualified trekking Guide

*Donkey drivers and Donkeys




*Meals (breakfast, all snacks, lunch, afternoon tea, large dinner) during the
trek


*All Cooking Equipment, plates, cups, utensils etc




*Tents (personal tent, dining tent with table and chairs, kitchen tent and
toilet tent)


*Single tents available on request




*Private Transfer during the trekking



Price does Not Include:
*Transfer airport Lima to Hote




*Bus Lima / Huaraz / Lima




*Personal Equipment of Trekking




*Entrance to National Park 150 soles per person




*Meals and drinks in the city