SALIDA: 2019-07-18

---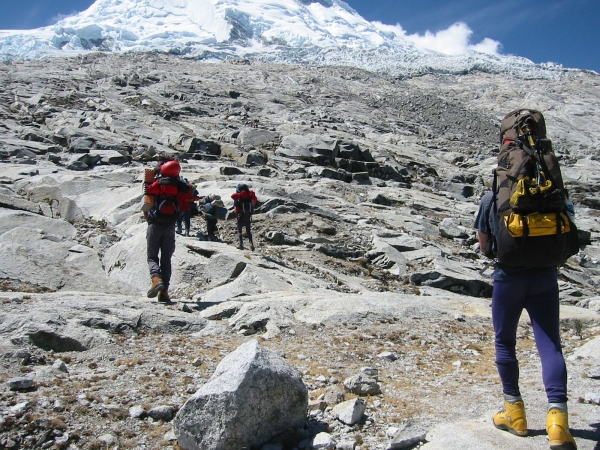 Pisco Climbing 5,752mt
Pisco 5750mt one of the easiest mountains in the range, usually used for acclimatization before climbing one of the 6000 meter peaks in Cordillera Blanca. Normal route is easy, trip Huaraz-Top of the Pisco-Huaraz takes 4 days. Fairly spectacular pyramidal peak set right in the heart of the cordillera Blanca.

Huascaran Climbing 6,768mt
Huascaran is Perus highest mountain; its two summits are separated by an enormous col, the Garganta, which is gained by climbing along the edge of a tumbling icefall. This can give several short steep pitches, although the difficulties can change overnight. From the top camp just below the Garganta, the route to the south summit follows snow and ice slopes, steeply at first, to the highest point in the tropics.

Itinerary:
July 18: Huaraz. Acclimatization day hikes (Laguna Churup 4450)



July 19: Huaraz _ Llanganuco _ Base Camp Pisco at (4300mt)

July 20: Base Camp Pisco _ Moraine Camp at (4765mt)

July 21: Moraine Camp _ Summit Pisco (5750mt) _ Base Camp at (4300mt)
July 22: Base Camp _ Return to Huaraz

July 23: Free day in Huaraz, and Preparations for Huascaran Climbing



July 24: Huaraz _ Musho _ Base Camp Huascarán at (4100mt)

July 25: Base Camp _ Camp 1 Huascarán at (4800mt)

July 26: Camp 1_ Camp 2 Huascarán at (5950mt)

July 27: Camp 2 _ Summit Huascarán (6768mt) _Camp 1
July 28: Camp 1 _ Base Camp Huascarán at (4100mt)

July 29: Base Camp _ Musho _ Return to Huaraz, end expedition

Note.
Private departures are available on the dates of your choice. For more information and price writes to our:
info@alpamayoperu.com
/
alpamayoperu@gmail.com
---
In The Price Includes:
*UIAGM mountain guide




*Assistant climbing guides for more clients




*Experienced climbing porters




*Donkeys and donkey drivers




*Meals (breakfast, all snacks, lunch, afternoon tea, large dinner) during the Climbs




*Tents (personal tent, dining tent with table and chairs, kitchen tent and toilet tent)




*Personal tents for clients & personals




*All cooking equipment, plates, cups, utensils etc.




*Private Transfer during climbing (go and back)
Price does Not Include: