Artesonraju Climbing 6,024mt 4 Days

---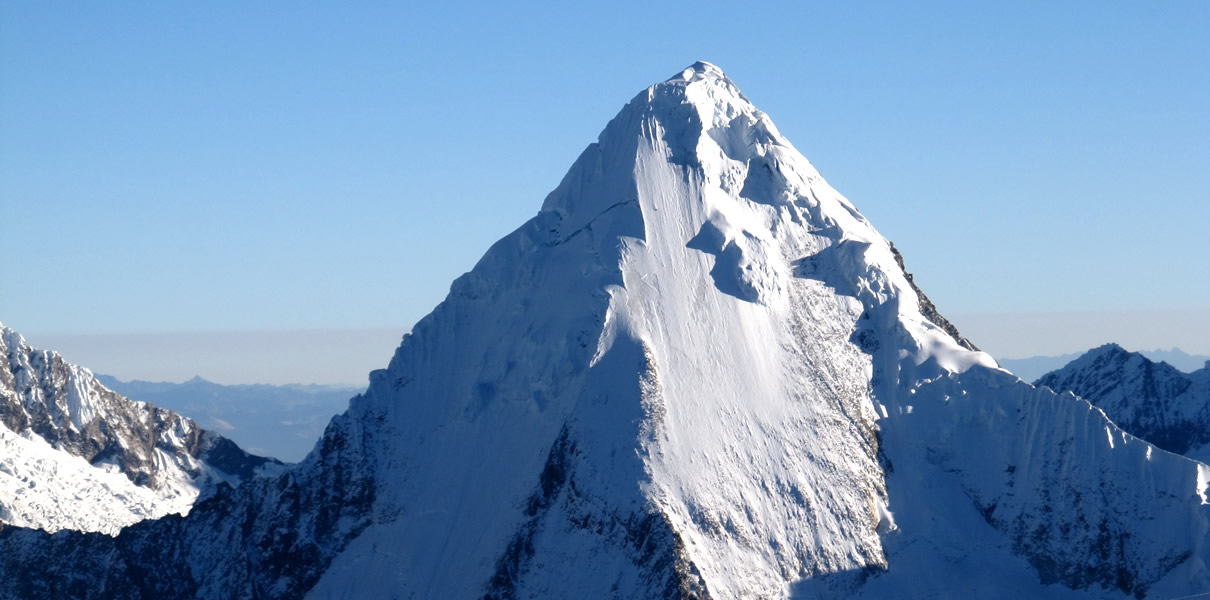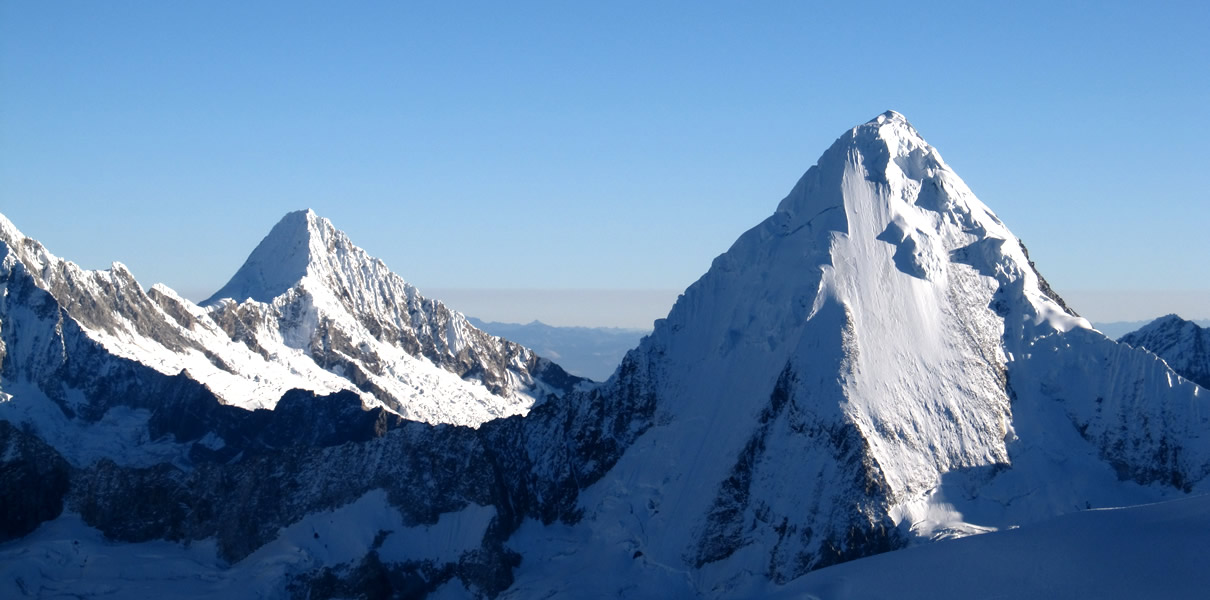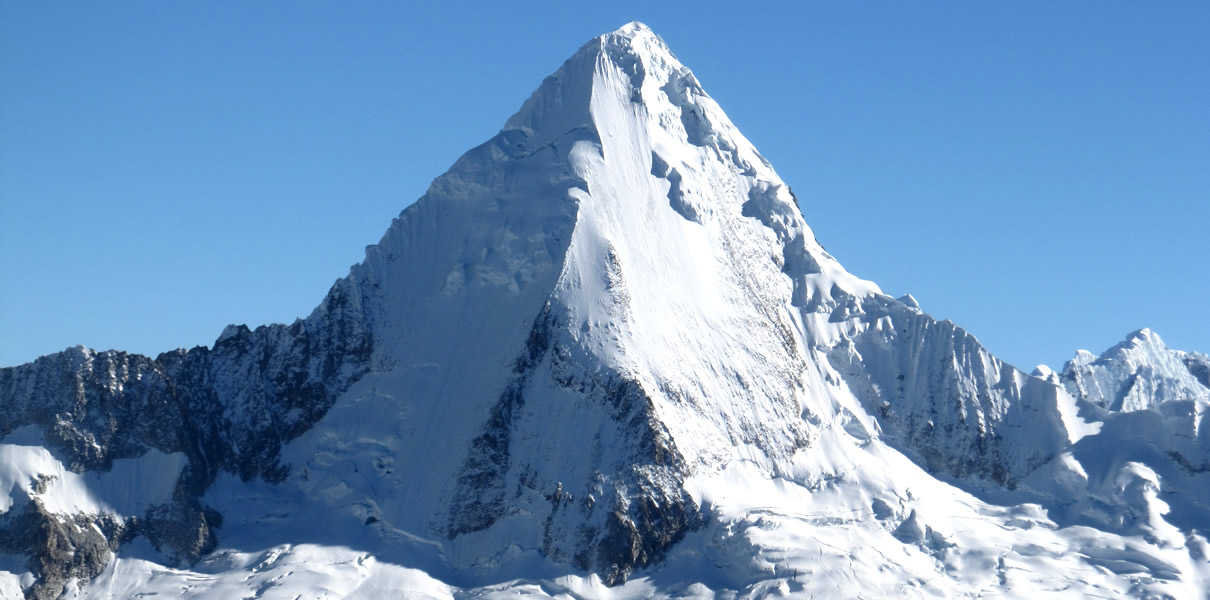 The truth is that Artesonraju is a real mountain in Peru's Cordillera Blanca. Often compared to Peru's more well-known Alpamayo, Artesonraju has a similar shape and profile. It is a perfect pyramid with beautiful clean and steep slopes leading directly toward the mountain's tiny summit.
Itinerary:
Day 01: Huaraz / Transfer Paron / Trekking to Artesonraju Base Camp (4200m) Camp
at proper time in the morning our private bus will pick the passengers up, and drive to Caraz, then along the Paron valley will start going up, until the Paron lakes after 2 and ½ hours driving, passengers will arrive. Then start backpacking to the base camp upside the lake, hiking will take about 1 hour, then set up the camping site and free afternoon to check the climbing gears, overnight in the base camp of Artesonraju.
Day 02: Base Camp / Ascend to Artesonraju High Camp (4250m) Camp
After the breakfast the passengers will start climbing, up to the moraine camp and then change or put on their climbing clothes and gears, then start Climbing ice, after few hours they will get the camp1, and set up the tents in the snow, here the high mountain cook will prepare special meals and hot drinks, overnight at camp 1 at 5200masl aprox.
Day 03: High Camp / Ascend to Artesonraju Summit (6024m) / Descend to Base Camp (4200m) Camp
Early breakfast in the morning around 1pm. And then start climbing around 2am to climb in the hard snow, and after climbing ice using technical skills for about 4 hours aprox the climbers will get the summit of Artesonraju, once the climbers will get the summit they will have the splendor views of the mountain range and the snow caped pyramids such as Alpamayo, Pyramid, adventures tours will be successful climbing this mountain, then after to enjoy the views passengers will get down until the base camp, then in the base camp the Andean cook will be preparing the food and hot drinks, rest at tents and overnight in the base camp artesonaraju or paron lake
Day 04: Base Camp / Paron / Trekking through Valley Paron / Transfer to Huaraz
After the last breakfast in the morning we will prepare our camping equipment and start backpacking until the base of the Paron lake where our bus will be waiting, after 1 hour walking around the paron lake we will take our bus and drive down along the paron valley until Caraz, the small town where we will find restaurant to have lunch, and walk round its main square, finally drive direct to huaraz and hotel arriving to huaraz aprox 3pm.
Note.
Private departures are available on the dates of your choice. For more information and price writes to our:
info@alpamayoperu.com
/
alpamayoperu@gmail.com
---
In The Price Includes:
UIAGM mountain guide
Assistant climbing guides for more clients
Experienced Cook
Experienced climbing porters
Camp Guard
Donkeys and donkey drivers
Meals (breakfast, all snacks, lunch, afternoon tea, large dinner) during the Climbs
Tents (personal tent, dining tent with table and chairs, kitchen tent and toilet tent)
Personal tents for clients & personals
All cooking equipment, plates, cups, utensils etc.
Private Transfer during climbing (go and back)
Price does Not Include:
Transfer from airport to hotel
Transfer from Lima / Huaraz / Lima
Personal Equipment of climbing
Tours acclimatization
Huascaran National Park Entrance 65 soles
Hotels Lima / Huaraz
Meals and drinks in the city
Additional taxes in cities
Tipping