Cedros Alpamayo Trek 9 Days

---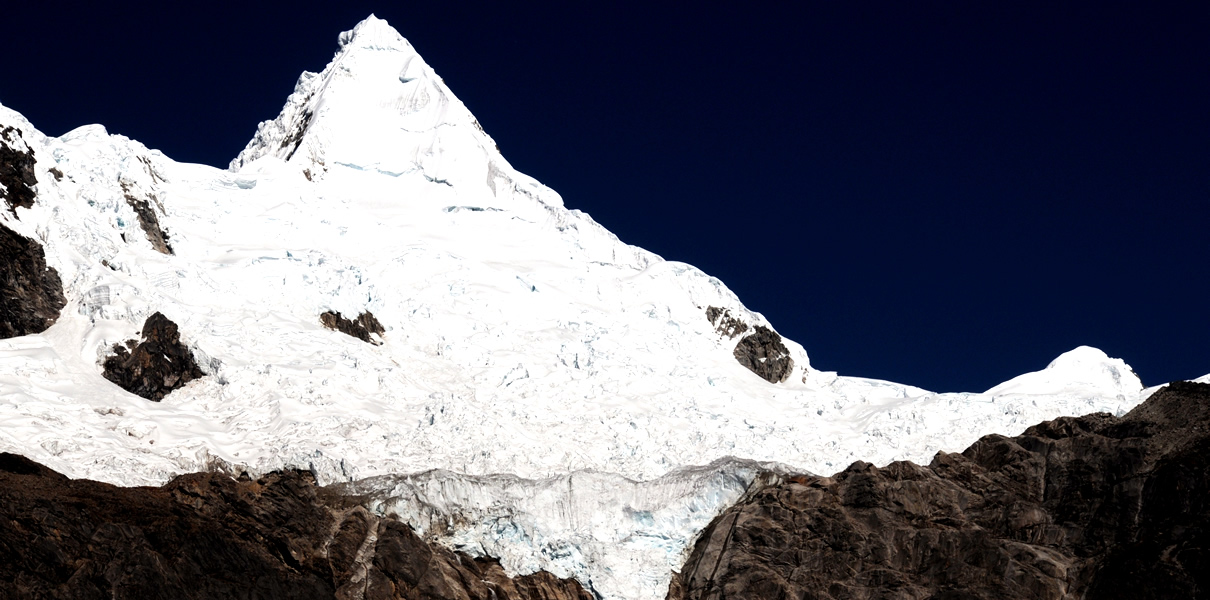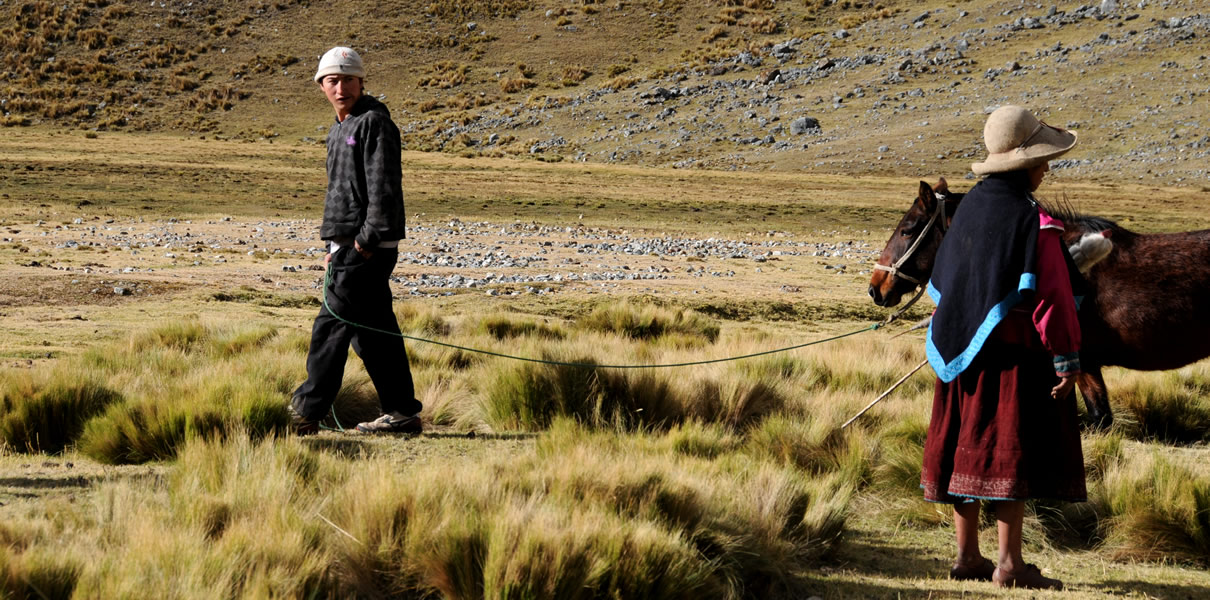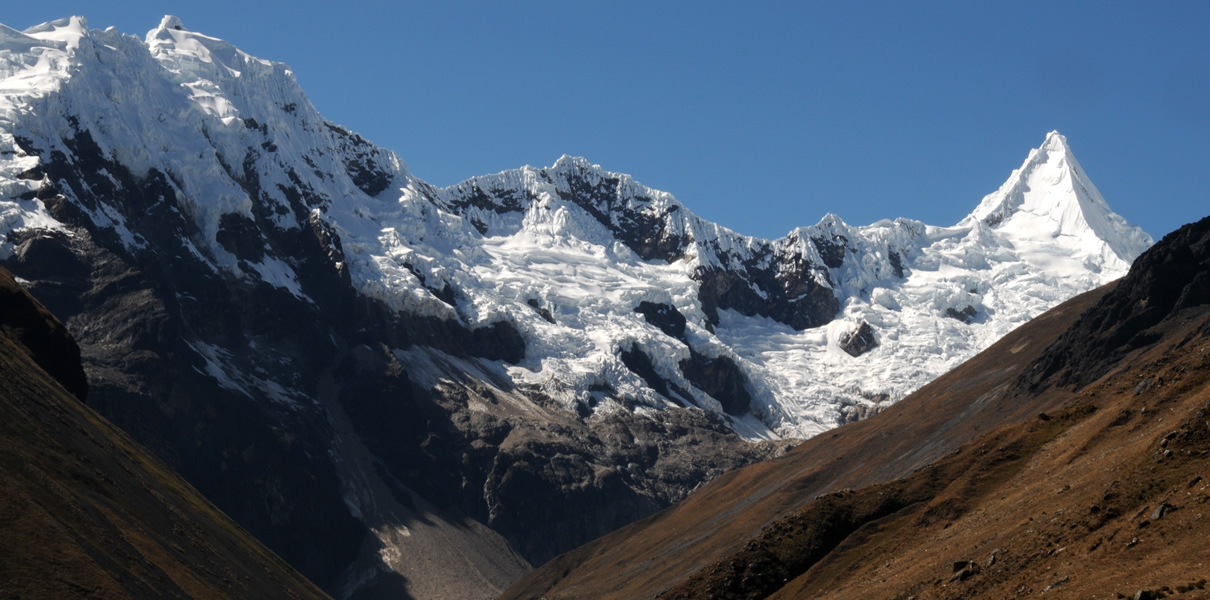 This is a tremendous trek which avoids the more frequented trails. It crosses a major pass almost every day as it encircles many of the great summits of the Cordillera Blanca, the triple peaks of Santa Cruz, Chacraraju, Pucajirca and of course Alpamayo. Our 11 day trek, preceded by some early acclimatisation days, is remarkably sustained and amazingly varied and always on good trails.
Timing: 9 days / 8 nights
Season: April / October
Trekking Grade: Medium / Hard
Itinerary:
Day 01: Huaraz / Transfer to Hualcayan Camp (2900m) Camp
On the way we have visits to Yungay where there is a memorial to the thousands of people killed in the 1970 earthquake, and then the colourful local market at Caraz.
Day 02: Hualcayan / Trekking to Wishcash Camp (4300m) Camp
Climb steadily in a zig zag path from Hualcayan to Wishcash 4300m.4 to 5 hours hiking
Day 03: Wishcash / Trekking to Ruina Pampa Camp (3800m) Camp
Cullicocha 4850m, then cross the first pass Paso Osoruri 4750m. A long descent to camp at Ruinapampa 3800m 7 hours
Day 04: Ruina Pampa / Trekking to Cruze Alpamayo Camp (4150m) Camp
An easy walk to reach Cruse Alpamayo, 2 hours walking

Day 05: Cruze Alpamayo / Trekking Cara Cara Pass (4830m) / Sajuna Camp (4200m) Camp
Climb to the often windy pass Cara Cara 4830m from where we have more fantastic views of Alpamayo and the lakes, and then traverse to another pass Mesapata 4500m and before descending to camp at Lake Safuna 4200m 6 to7 hours.
Day 06: Sajuna / Trekking Pucajirca Pass (4600m) / Jancapampa Camp (3600m) Camp
From Safuna to another pass Paso Pucajirca (4600m) and camp in the open grassy valley of Jancapampa 3600m 7 to 8 hours. There are a lot of farming families living in the valley.
Day 07: Jancapampa / Trekking to Laguna Huecrococha Camp (3950m) Camp
We pass by many adobe farm houses, sheep, cattle and horses while climbing up to the pass Pass Tupatupa 4400m and descend to camp beside the small lake Laguna Huecrococha (3950m). 6 to7 hours

Day 08: Laguna Huecrococha / Trekking Pass Alto de Pucaraju (4650m) / Paria Camp (4200m) Camp
Pass Alto de Pacaraju 4650m from where we have breathtaking views of the mountain Taulliraju, then a steep descent to camp in a lovely quiet valley at Paria (4250m). 6 to7 hours
Day 09: Paria / Trekking through Quebrada Huaripampa / Transfer to Huaraz
At first we walk easily down the Huaripampa Valley passing through farming settlements and villages to Colcabamba. 4 hours of walking, and retour to huaraz
Note.
Private departures are available on the dates of your choice. For more information and price writes to our:
info@alpamayoperu.com
/
alpamayoperu@gmail.com
---
In The Price Includes:
Qualified trekking Guide
Experienced Cook
Assistants for larger groups
Donkey drivers and Donkeys
Meals (breakfast, all snacks, lunch, afternoon tea, large dinner) during the trek
All Cooking Equipment, plates, cups, utensils etc
Tents (personal tent, dining tent with table and chairs, kitchen tent and toilet tent)
Single tents available on request
Private Transfer during the trekking
Mattress
First Aid Kit
Price does Not Include:
International flight
Transfer airport Lima to Hotel
Hotels in Lima / Huaraz
Bus Lima / Huaraz / Lima
Personal Equipment of Trekking
Tour acclimatization
Entrance to National ParkUS$25 per person
Meals and drinks in the city
Tipping