Circuit Huayhuash 10 Days

---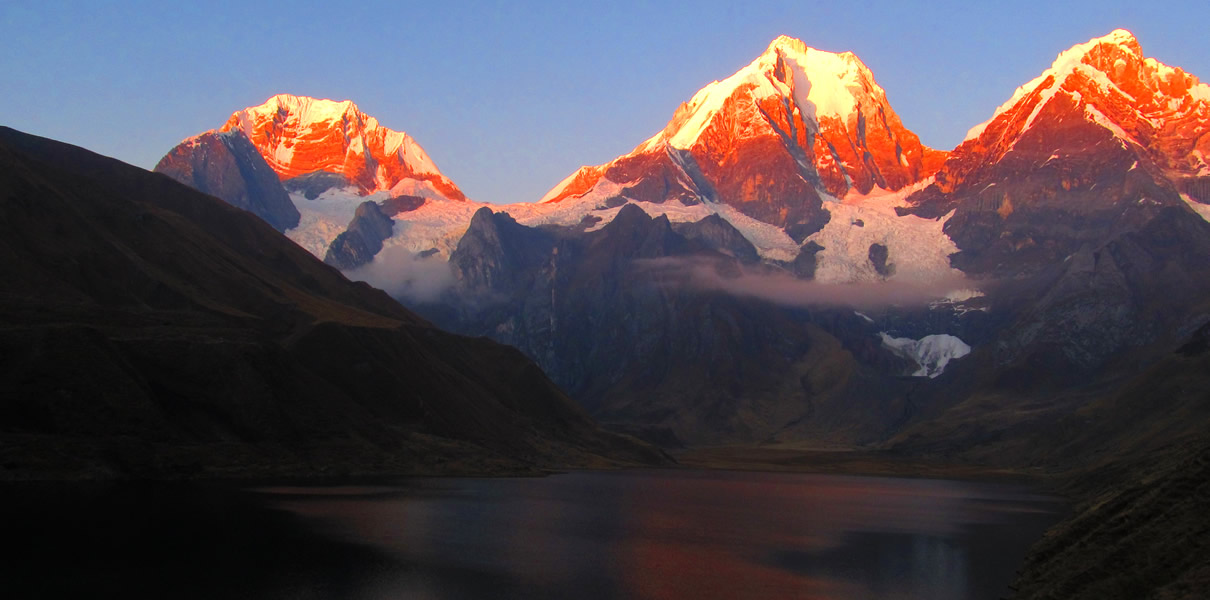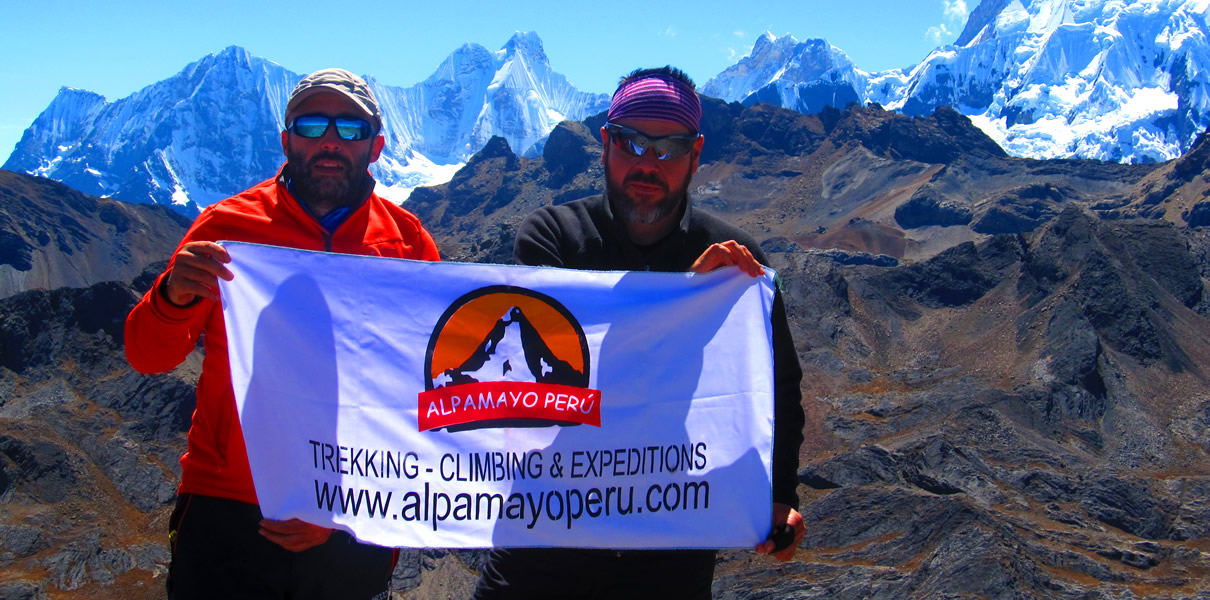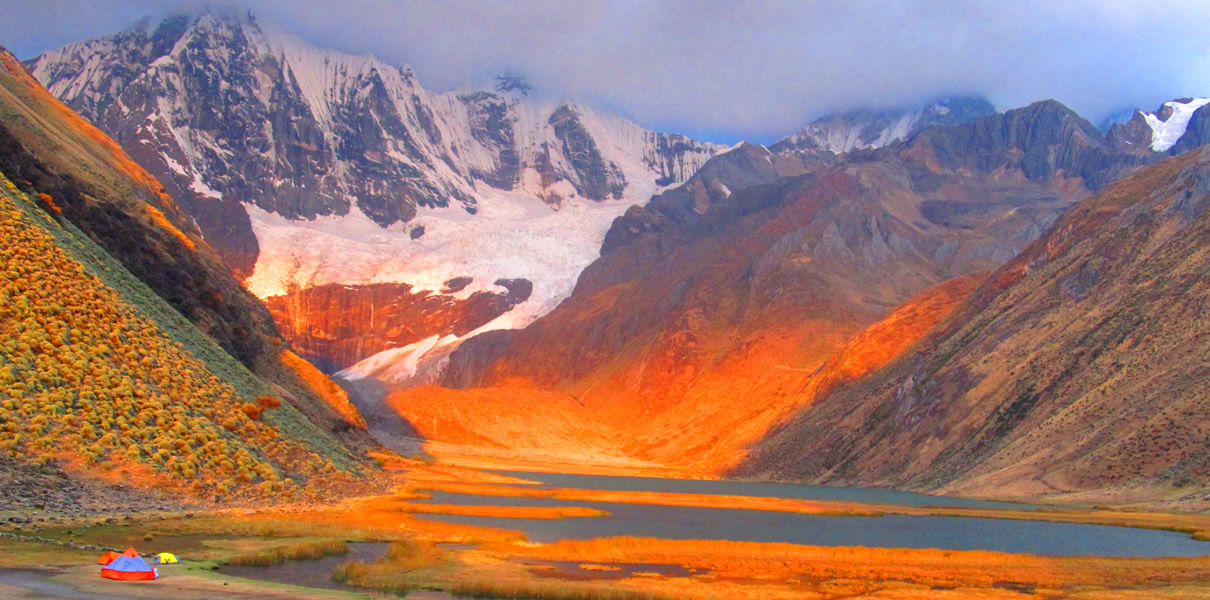 The Cordillera Huayhuash is often said to be the most beautiful part of the Peruvian Andes. It's a land of high grassy valleys, clear mountain lakes, tumbled glaciers and snow-shrouded peaks - all overarched by an impossibly deep-blue sky, where condors soar. The Huayhuash is a landscape of awe-inspiring height and scale, with six peaks over 6000m - including Yerupaja (6617) the second highest mountain in Peru – and several passes over 5000m. The trekking day
Itinerary:
Day 01: Huaraz / Transfer to Llamac / Cuartelhuain Camp (4150mt) Camp
In the morning we will pick up you at your hotel with our private transportation to drive south Huaraz on the paved way until chiquian town, then we will continue driving until reach cuartelhuain camping spot on the way we will pass Llamac– pocpa village, the last one is gateway of Cordillera Huayhuash, at the camp site we will meet with our donkey-driver and donkeys, as soon as we arrive the camp we will have the first view of snow- capped peaks of rondoy, ninashanca & hirishanca Overnight camp at cuartelhuain
Day 02: Cuartelhuain / Trekking Cacanan Pass (4700mt) / Laguna Mitucocha Camp (4300mt) Camp
Two options for the route, a gradual easy pass on the main trail or an off-trail adventure on steeper terrain with a beautiful lake and a high rocky pass.
Day 03: Laguna Mitucocha / Trekking Carhuac Pass (4650mt) /Laguna Carhuacocha Camp (4150mt) Camp
We cross the pass Paso de Carhuac (4650m) then descend to our camp at the big Carhuacocha Lake (4150m). From our camp we look directly up the lake to the peaks and ice fields of Siula and the two peaks of Yerupajá.
Day 04: Laguna Carhuacocha / Trekking Carnisero Pass (4800m) / Huayhuash Cam (4750mt) Camp
Most people take the off trail route passing three differently colored lakes and winding below the peaks of Yurupaja and Siula.
Day 05: Huayhuash / Trekking Portachuelo Pass (4750mt) / Laguna Viconga Camp (4395mt) Camp
We descend past Viconga Lake, often the haunt of donkeys and time to relax in the natural hot springs at viconga.
Day 06 Laguna Viconga / Trekking Cuyoc Pass (5000m) / Guanacpatay Camp (4300mt) Camp
We leave Lake Viconga and ascent to the Cuyoc Pass (5000m). This is the highest point of the 13 day full circuit for those who opted out to climb the summit of Diablo Mudo. From the pass we will have a spectacular panorama view on the Huayhuash peaks in the north and the Raura peaks in the south. Further a stunning view of the glacier of Puscanturpa (5650m) completes this awe-aspiring experience. We continue our hike by descending from the pass towards Quebrada Huanactapay and set up camp in Rinconada (4300m). Walking time is 5-6 hours.
Day 07: Guanacpatay / Trekking to Huatiac Camp (4350m) Camp
Today will be easy hiking through the valley downwards until reaching the village of Huayllap (3700m). We continue the trek climbing gradually up a narrow valley to reach the pastures of Huatiac (4350m). We will set up camp here for the night. Walking time is 4-5 hours
Day 08: Huatiac / Trekking Tapush Pass (4750mt) / Yaucha Pass (4850m) / Jahuacocha Camp (4150m) Camp
After our breakfast we start walk up until reach punta tapush pass over 4750m with an impressive mountains view, after that we will descend to Ancash, After lunch we continue walk up toward next pass punta yaucha, on the pass we will have again wondrous view about the most spectacular mountain scenery the majestic yarupaja, descending from the pass feels like you are falling off the end of the earth, but makes for a rapid journey to another gorgeous camp site on the shores of jahuacocha.
Day 09: An extra day at Laguna Jahuacocha
Make a half day hike to solteracocha, where we will have the most breath-taking view surrounded by huge towering pecks
Day 10: Laguna Jahuacocha / Pampa llamac Pass (4300mt) / Descent to Llamac / Trasnfer to Huaraz
In Llamac the bus will be waiting to take us back to Huaraz for hot showers.
Note.
Private departures are available on the dates of your choice. For more information and price writes to our:
info@alpamayoperu.com
/
alpamayoperu@gmail.com
---
In The Price Includes:
Qualified trekking Guide
Experienced Cook
Assistants for larger groups
Donkey drivers and Donkeys
Meals (breakfast, all snacks, lunch, afternoon tea, large dinner) during the trek
All Cooking Equipment, plates, cups, utensils etc
Tents (personal tent, dining tent with table and chairs, kitchen tent and toilet tent)
Single tents available on request
Private Transfer during the trekking
Mattress
First Aid Kit
Price does Not Include:
International flight
Transfer airport Lima to Hotel
Hotels in Lima / Huaraz
Bus Lima / Huaraz / Lima
Personal Equipment of Trekking
Tour acclimatization
Huayhuash community fees US$75 per person
Meals and drinks in the city
Tipping