Circuit Huayhuash Trekking 15 days

---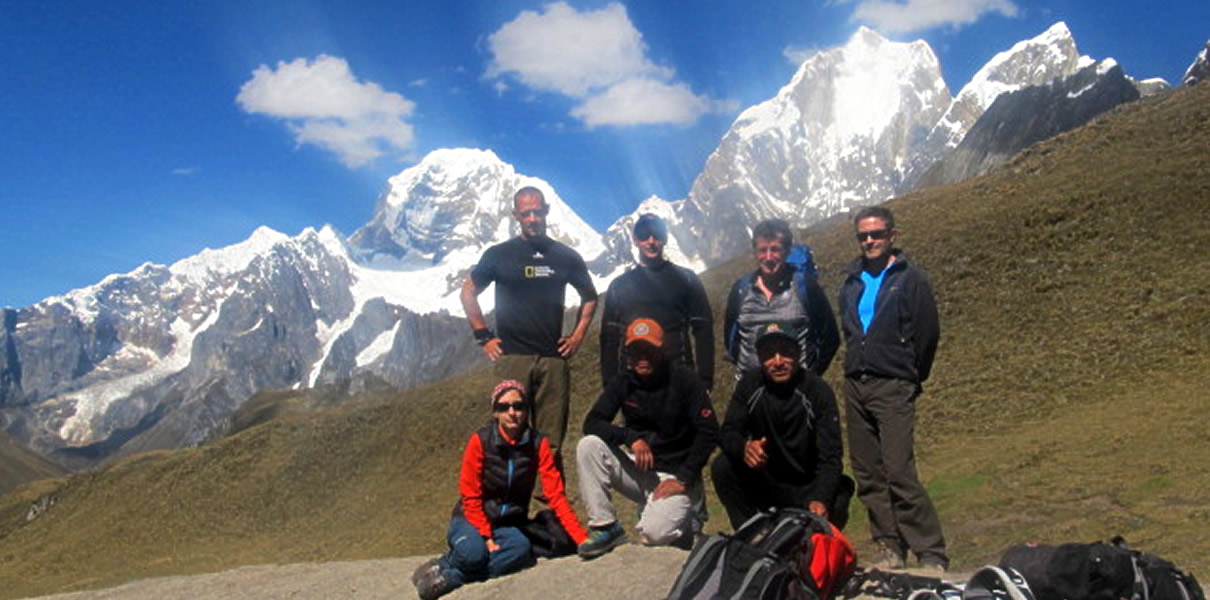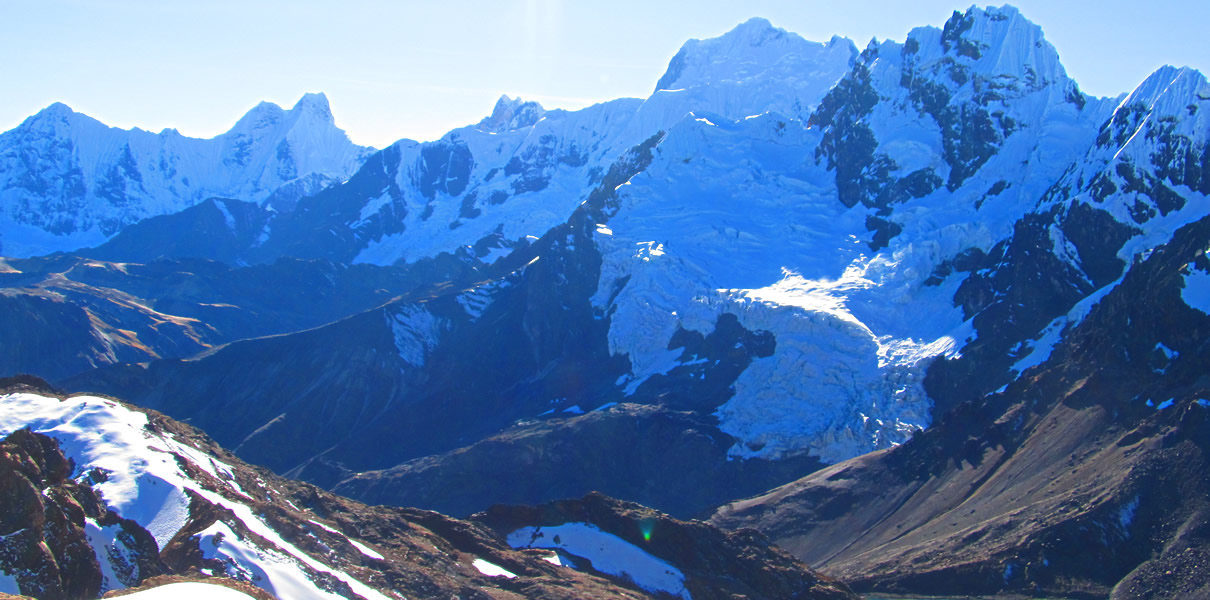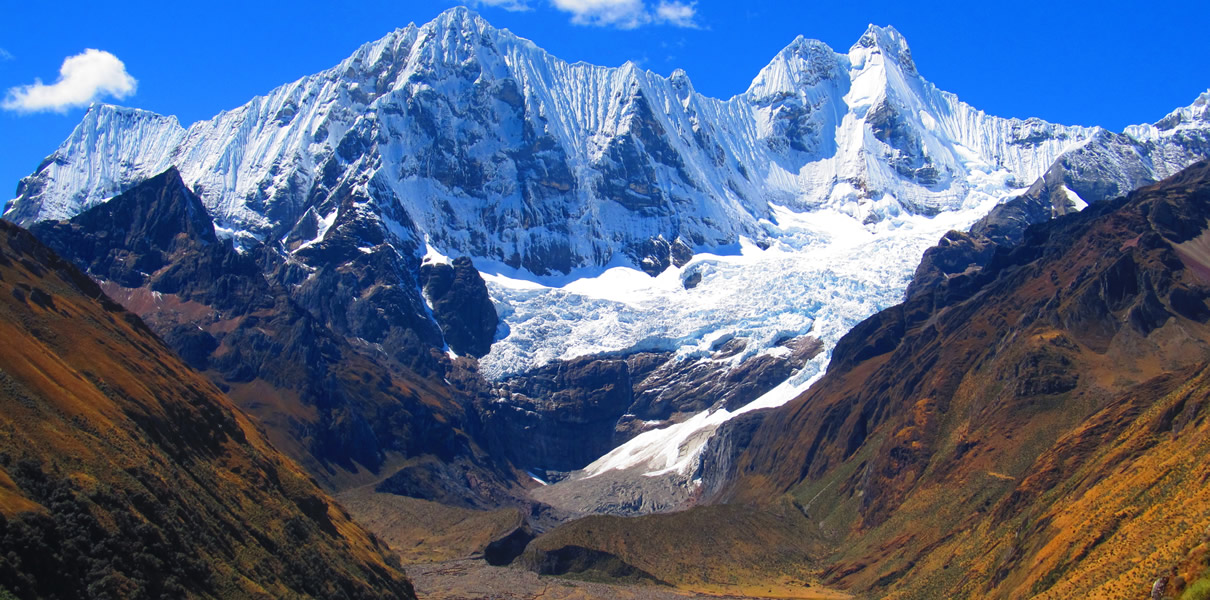 The Cordillera Huayhuash is one of the most spectacular ranges in the Peruvian Andes. It was a region that attracted worldwide attention following Joe Simpson's graphic account of his ascent of Siula Grande in his book 'Touching the Void'. This full circuit trek is the best way to fully appreciate the sheer scale of these snowcapped summits including Yerupaja, the second highest mountain in Peru. Our trip includes ample time for acclimatisation in the Cordillera Blanca and Huaraz before spending 15 days crossing high passes - all in the vicinity of 5000m. Each day provides an ever changing backdrop of soaring peaks including the distinctive needle like peak of Jirishanca and the impressive summit of Yerupaja at 6640m. At night we camp in tranquil locations alongside glacial lakes or alpine meadows in this unrivalled corner of the Andes.
Timing: 15 days
Season: May / September
Trekking Grade: Difficult
Itinerary:
Day 1: Huaraz _ Chiquian _ Llamac at (3300mt)
Drive to the village of Llamac and set up our first camp (3300m). 4 to 5 hours drive.
Day 2: Llamac _Matacancha at (4150mt)
Following the Llamac River steadily uphill to our first campsite on the grassy meadows of matacancha

Day 3: Matacancha _Punta Cacanan (4700mt) _ Laguna Mitucocha at (4300mt)
Two options for the route, a gradual easy pass on the main trail or an off-trail adventure on steeper terrain with a beautiful lake and a high rocky pass.
Day 4: Laguna Mitucocha _Carhuac Pass (4650mt) _Laguna Carhuacocha at (4150mt)
We cross the pass Paso de Carhuac (4650m) then descend to our camp at the big Carhuacocha Lake (4150m). From our camp we look directly up the lake to the peaks and ice fields of Siula and the two peaks of Yerupajá.
Day 5: Extra day at Laguna Carhuacocha at (4150mt)
Rest Day at Carhuacocha Lake, take a half day hike around the lake, or visit Siula Lake. Catch trout for dinner.
Day 6: Laguna Carhuacocha _ Pass Carnisero (4800m) _ Huayhuash at (4750mt)
Most people take the off trail route passing three differently colored lakes and winding below the peaks of Yurupaja and Siula.
Day 7: Huayhuash _ Pass Portachuelo (4750mt) _ Laguna Viconga at (4395mt)
We descend past Viconga Lake, often the haunt of donkeys and time to relax in the natural hot springs at viconga.
Day 8: Laguna Viconga _Punta Cuyoc (5000m) _ Yanapampa at (4450mt)
You'll hike over the highest pass in the Huayhuash circuit, reaching 5000 meters of altitude. A beautiful side trail is passable on foot while the donkeys follow a different trail and descent to quebrada Guanacpatay. And camp in Yanapampa to 4450m
Day 9: Yanapampa _ Cutatambo at (4100mt)
Challenging climb over Cerro San Antonio (5050mt) our highest pass. Breathtaking views to Siula Grande base camp and Siula glacier. Steep descend to camp at Cutatambo.
Day 10: Rest day at Cutatambo.
One of the more beautiful vistas of siula Grande (Joe Simpson – explorer) and visit the glacial lakes of Sarapocha and Santa Rosa
Day 11: Cutatambo _ Huatiac at (4300m)
Today will be easy hiking through the valley downwards until reaching the village of Huayllap (3700m). We continue the trek climbing gradually up a narrow valley to reach the pastures of Huatiac (4300m). We will set up camp here for the night. Walking time is 4-5 hours.
Day 12: Huatiac _ Punta Tapush (4750mt) _ Gashgapampa at (4500mt)
We leave Huatiac in the morning and continue our hike crossing the Tapush Pass (4800m). We set up camp at Gashgapampa (4400m) from where we will start early in the morning our climb to the mountain summit of Diablo Mudo (5350m). Walking time is 4-5 hours.
Day 13: Gashgapampa _ OptionClimb Diablo Mudo (5350mt) _ Laguna Jahuacocha
We will continue our trek and cross the Punta Yaucha (4800m) before descending to the spectacular Lake of Jahuacocha (4400m). This lake nestles between a great number of snow-capped mountains with cloud piercing peaks such as Jirishanca, El Toro (6100m), Yerupaja, Siula Grande, Rondoy (5885m) and Sarupo (6127m) and cascading glaciers. This is arguable the best campsite of the trek. Walking time 5-6 hours.
Day 14: an extra day at Laguna Jahuacocha.
We stay at Jahuacocha. Climb up Cerro Amarrillo peak 5000m for views over the whole Huayhuash range and down into Quartelhuain where we were on day 5 (2 to 3 hours). On the top you walk along an exposed ridge for a short way, but it is worth the effort for the breathtaking views. Other option in visit to Lake Solteracocha
Day 15: Laguna Jahuacocha _ Pass Pampa llamac (4300mt) _ Descent back to Llamac.
In Llamac the bus will be waiting to take us back to Huaraz for hot showers.
Note.
Private departures are available on the dates of your choice. For more information and price writes to our:
info@alpamayoperu.com
/
alpamayoperu@gmail.com
---
In The Price Includes:
Qualified trekking Guide
Experienced Cook
Assistants for larger groups
Donkey drivers and Donkeys
Meals (breakfast, all snacks, lunch, afternoon tea, large dinner) during the trek
All Cooking Equipment, plates, cups, utensils etc
Tents (personal tent, dining tent with table and chairs, kitchen tent and toilet tent)
Single tents available on request
Private Transfer during the trekking
Mattress
First Aid Kit
Price does Not Include:
International flight
Transfer airport Lima to Hotel
Hotels in Lima / Huaraz
Bus Lima / Huaraz / Lima
Personal Equipment of Trekking
Tour acclimatization
Huayhuash community fees US$75 per person
Meals and drinks in the city
Tipping