Climbing Valley Ishinca & Alpamayo 15 days

---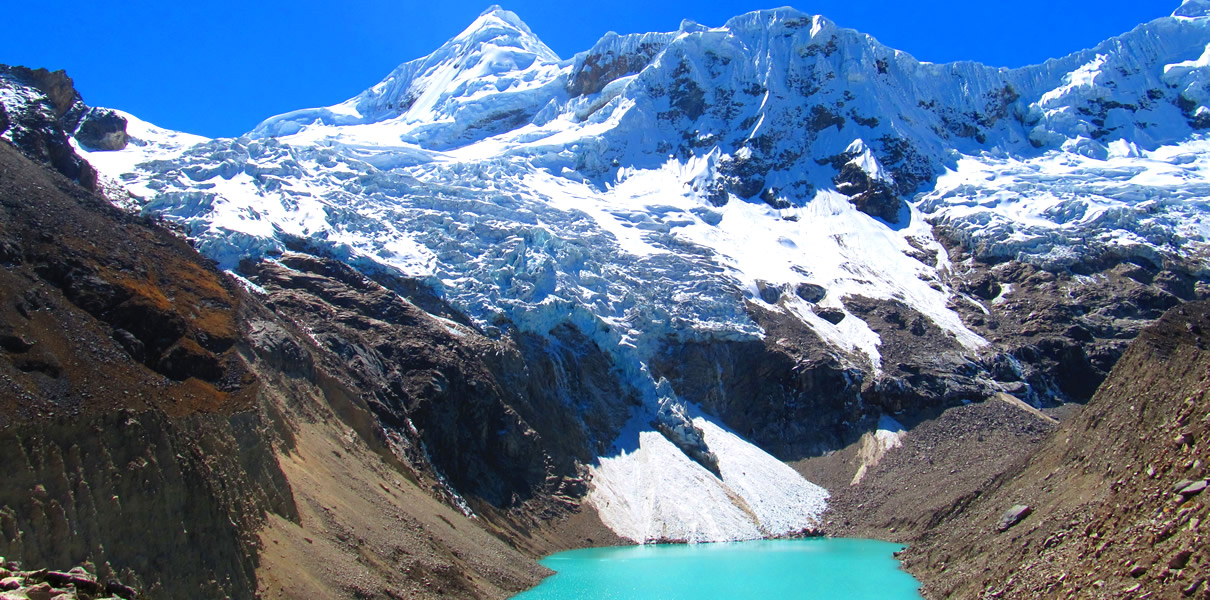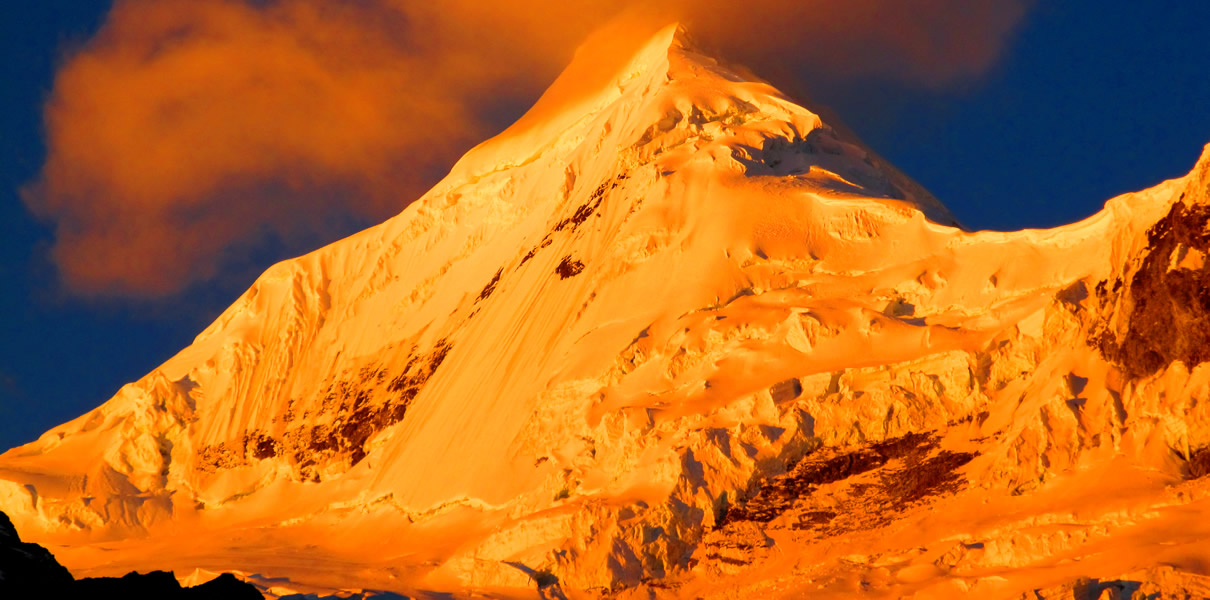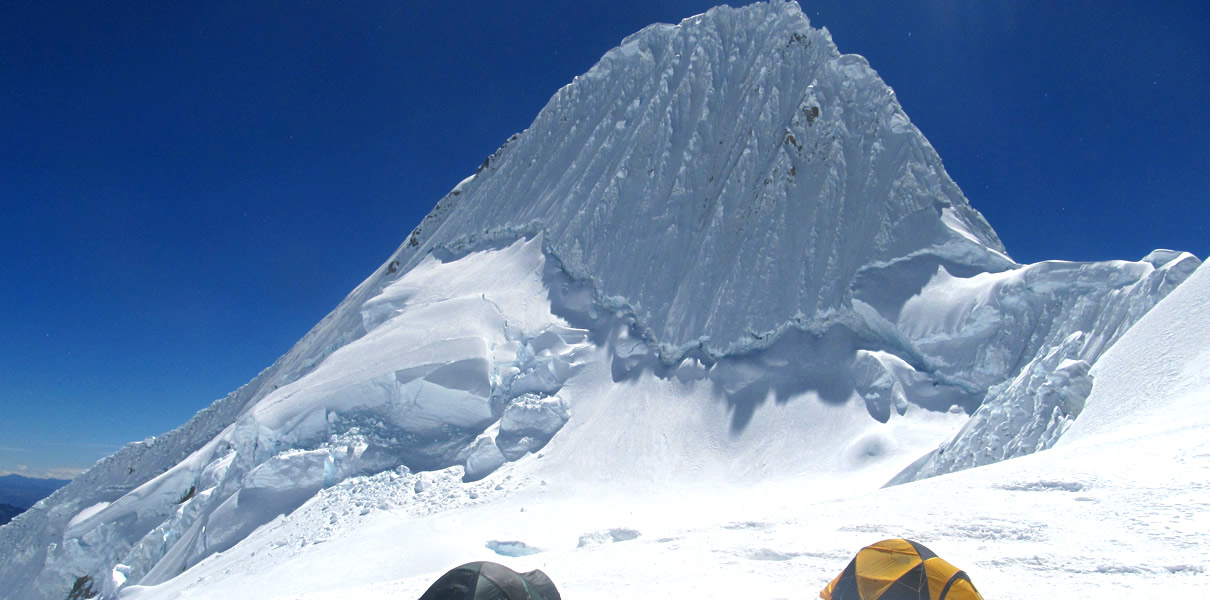 These three mountains are located in the Valley of Ishinca, will serve to us like Acclimatization, in order to ascend the mountain most beautiful of the World Alpamayo 5947mt.
Itinerary:
Day 1:Huaraz _ Pashpa _Base Camp Ishinca Camp at (4350mt)
Today we'll take private transport to the mouth of the Ishinca Valley and with the help of burros, travel to our base camp (4350mt) below Urus.
Day 2: Base Camp Ishinca _ Summit Urus (5420mt) _ Base Camp
Urus Summit Day! Your first alpine start has you leaving camp by 4:00am. Work your way up the steep moraine to the toe of the glacier where you'll put on crampons, harnesses, and rope up. Weave your way to the summit, usually arriving around 10am. Celebrate! Return down to base camp for a well-earned dinner and sleep!
Day 3: Base Camp Ishinca _ Summit Ishinca (5540mt) _ Base Camp
Ishinca Summit Day! Another Alpine start - 3:00am waking and leaving by4:00am. Ishinca's summit push is about 2 hours longer then Urus'. You'll pick your way through the delicate Andean tundra and gain the glacier around sunrise. Once on the glacier, wind your way through some impressive crevasses and up to the high saddle, then follow a summit ridge to the very top.
Day 4: Free day in Base Camp
Rest day (day hike options).Work on some skills for your Tocllaraju climb at base camp in the afternoon.
Day 5: Base Camp Ishinca _ Camp 1 Tocllaraju at (5200mt)
Taking your essentials, you'll leave for the high glacier camp of your final mountain, Toclliaraju. It usually takes 4 hours to reach the camp at 5000 meters. Enjoy an unforgettable dinner while mezmerized by Toclliaraju's impressive west face.
Day 6: Camp 1 Tocllaraju _ Summit Tocllaraju (6034mt) _ Base Camp
This will be a long day for the climb of Tocllaraju. Easy to moderate glacier terrain leads to the final summit pyramid where we encounter several steep snow and ice pitches up to 60 degrees that may require belaying depending on conditions.
Day 7:Base Camp _ Pashpa _Return to Huaraz
We trek out to Collon and then return to Huaraz.Time to relax after the climbing and celebrate.
Day 8: Free day in Huaraz, and Preparations for Alpamayo Climbing
Day 9: Huaraz _Cashapampa _Llamacorral Camp at (3750mt)
Drive to our trailhead in the village of Cashapampa (9,000 feet). This 3 hour drive takes us through beautiful farming communities as we head between the spines of the Cordillera Negra and the Cordillera Blanca. After organizing our burros, we hike with day packs to Llama Corral (3750mt), where we camp for the night.
Day 10: Llamacorral _Base Camp Alpamayo at (4200mt)
A fairly short day, about 2 at 3 hours with day packs. Basecamp is made at (4200mt) in a valley at the base of Alpamayo on the opposite side of the route. Basecamp is scenic, with greenery, running water and outhouses.
Day 11: Base Camp _Moraine Camp at (4600mt)
From base camp, the route takes a moraine ridge and crosses rock slabs across the edge of the glacier to reach an area of tent platforms (3 hours). This camping area is very limited and we may opt to climb all the way to Col camp in one day.
Day 12: Moraine Camp _ Camp 1 Alpamayo at (5300mt)
The route above moraine camp continues over ice and moraine before a 300-metre snow couloir leads to the Col between Alpamayo and nearby Quitaraju (6,040m). This section can sometimes be the most technical and difficult part of the route. After gaining the col, there is a short descent to reach high camp.
Day 13: Camp 1 _ Summit Alpamayo (5947mt) _ Base Camp at (4200mt)
Alpamayo Summit Day Depart from camp at 2:00am and head to the steep summit wall, which offers 360 meters of fun technical climbing to the summit.
Day 14: Base Camp _ Llamacorral Camp at (3750mt)
We trek out to Llamacorral Aproximately 3:00 Hours of Base Camp of alpamayo and camping in llamacorral.
Day 15: Llamacorral _ Cashapampa Return to Huaraz
We trek out to Cashapampa and then return to Huaraz.Time to relax after the climbing and celebrate
Note.
Private departures are available on the dates of your choice. For more information and price writes to our:
info@alpamayoperu.com
/
alpamayoperu@gmail.com
---
In The Price Includes:
UIAGM mountain guide
Assistant climbing guides for more clients
Experienced Cook
Experienced climbing porters
Camp Guard
Donkeys and donkey drivers
Meals (breakfast, all snacks, lunch, afternoon tea, large dinner) during the Treks & Climbs
Tents (personal tent, dining tent with table and chairs, kitchen tent and toilet tent)
Personal tents for clients & personals
All cooking equipment, plates, cups, utensils etc.
Private Transfer during Trekking and climbing (go and back)
Price does Not Include:
Transfer from airport to hotel
Transfer from Lima / Huaraz / Lima
Personal Equipment of Trekking & Climbing
Tours acclimatization
Huascaran National Park Entrance 65 soles
Hotels Lima / Huaraz
Meals and drinks in the city
Additional taxes in cities
Tippins