Climbing Vallunaraju, Valley Ishinca & Chopicalqui 12 days

---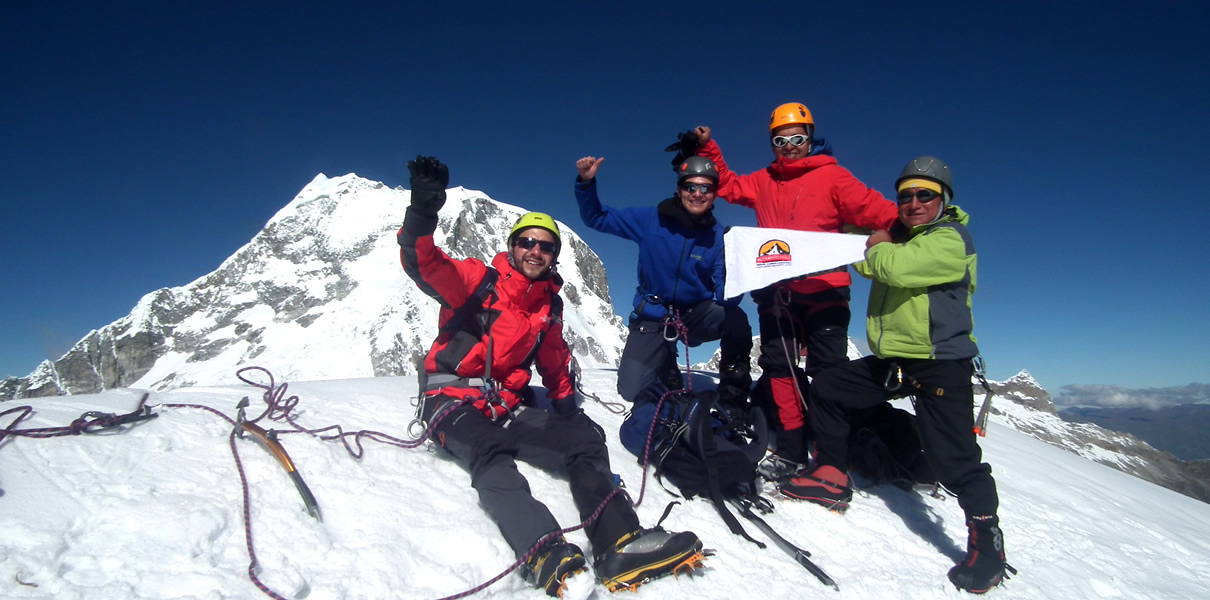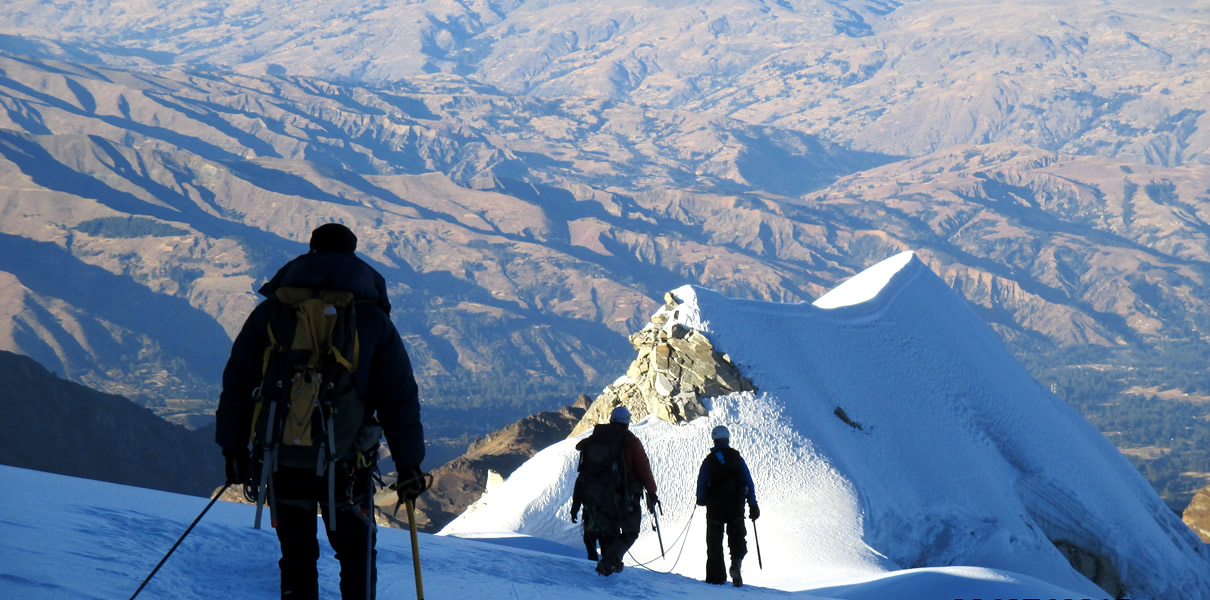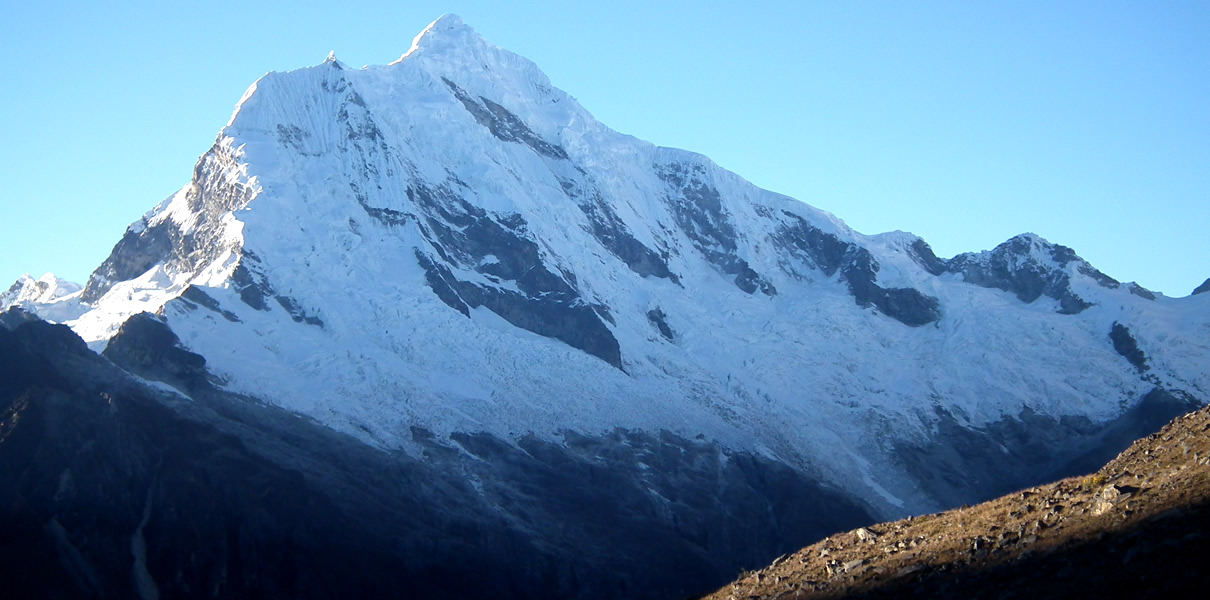 Vallunaraju is a 5686mt mountain located in the Quebrada Llaca, some fifteen kilometers NE to the city of Huaraz. The route up the SW face is easy to climb and good for taking pictures and get acclimatization for climbing great mountains of the Cordillera Blanca. Three summits for the price of one hike - All three of these mountains share the same base camp so you get less walking and more climbing! Starting with Urus and ishinca getting progressively more technically demanding, your professional guides will teach you all the skills you need to successfully climb these classic routes of the Andes as for climbing tocllaraju 6032m.
Chopicalqui 6354mt is spectacularly situated northeast of and connected to Peru's highest peak, Huascaran Sur. With Huascaran Norte and Sur, it is the third highest summit encircling the Llanganuco Glacier, This is a 4 or 5-day expedition to Chopicalqui's beautiful summit via a complex and high quality route in the Cordillera Blanca Peru.
Itinerary:
Day 1:Huaraz_ Llaca_ Moraine camp at 4890m
After the breakfast in the Hotel will pick up you at 8:00hours approximately, then you will be transferred to the East site from Huaraz to Llaca Valley, where is the start point hike to the Moraine Camp for about 2 hours.
Day 2: Moraine camp_ Summit Vallunarahu 5686m_ Return to Huaraz
3am will start hiking up sometimes rock climbing to get the glacier for about 1 hours, then climbers will start climbing for about 2 hours more to get the summit. After to stay for some minutes, start to come back to moraine camp walking down for about 2 hours and return to huaraz
Day 3: Huaraz _ Pashpa _Base Camp Ishinca Camp at (4350mt)
Today we'll take private transport to the mouth of the Ishinca Valley and with the help of burros, travel to our base camp (4350mt) below Urus.
Day 4: Base Camp Ishinca _ Summit Urus (5420mt) _ Base Camp
Urus Summit Day! Your first alpine start has you leaving camp by 4:00am. Work your way up the steep moraine to the toe of the glacier where you'll put on crampons, harnesses, and rope up. Weave your way to the summit, usually arriving around 10am. Celebrate! Return down to base camp for a well-earned dinner and sleep!
Day 5: Base Camp Ishinca _ Summit Ishinca (5540mt) _ Base Camp
Ishinca Summit Day! Another Alpine start - 3:00am waking and leaving by4:00am. Ishinca's summit push is about 2 hours longer then Urus'. You'll pick your way through the delicate Andean tundra and gain the glacier around sunrise. Once on the glacier, wind your way through some impressive crevasses and up to the high saddle, then follow a summit ridge to the very top.
Day 6: Base Camp Ishinca _ Camp 1 Tocllaraju at (5200mt)
Taking your essentials, you'll leave for the high glacier camp of your final mountain, Toclliaraju. It usually takes 4 hours to reach the camp at 5000 meters. Enjoy an unforgettable dinner while mezmerized by Toclliaraju's impressive west face.
Day 7: Camp 1 Tocllaraju _ Summit Tocllaraju (6034mt) _ Base Camp
This will be a long day for the climb of Tocllaraju. Easy to moderate glacier terrain leads to the final summit pyramid where we encounter several steep snow and ice pitches up to 60 degrees that may require belaying depending on conditions.
Day 8: Base Camp _ Pashpa _Return to Huaraz
We trek out to Collon and then return to Huaraz.Time to relax after the climbing and celebrate.
Day 9: Huaraz _ Llanganuco _ Base Camp Chopicalqui at (4300mt)
We head out past the beautiful Llanganuco lakes and on to the trailhead where we load our donkeys and ascend to the chopicalqui Base Camp.
Day 10: Base Camp Chopicalqui _ Moraine Camp at (4900mt) _ Camp 1 Chopicalqui Camp at (5300mt)
Continue up to the High Camp located at the very foot of the glacier. That night we prepare for the following days summit climb.
Day 11: Camp 1 - Summit Chopicalqui (6354mt) _ Base Camp (4300mt)
Summit day! We wake at 2:00 am and after a light breakfast depart for the summit at 3:00am. Around 8:00am we arrive at the summit and discover why everyone talks about the view! We return to our camp around 2:00pm and continue on back down to the Base Camp.
Day 12: Base Camp _ Return to Huaraz
We trek out to Llanganuco and then return to Huaraz.Time to relax after the climbing and celebrate.
Note.
Private departures are available on the dates of your choice. For more information and price writes to our:
info@alpamayoperu.com
/
alpamayoperu@gmail.com
---
In The Price Includes:
UIAGM mountain guide
Assistant climbing guides for more clients
Experienced Cook
Experienced climbing porters
Camp Guard
Donkeys and donkey drivers
Meals (breakfast, all snacks, lunch, afternoon tea, large dinner) during the Treks & Climbs
Tents (personal tent, dining tent with table and chairs, kitchen tent and toilet tent)
Personal tents for clients & personals
All cooking equipment, plates, cups, utensils etc.
Private Transfer during Trekking and climbing (go and back)
Price does Not Include:
Transfer from airport to hotel
Transfer from Lima / Huaraz / Lima
Personal Equipment of Trekking & Climbing
Tours acclimatization
Huascaran National Park Entrance 65 soles
Hotels Lima / Huaraz
Meals and drinks in the city
Additional taxes in cities
Tippins