Huayhuash Trekking & Inca Trail to Machu Picchu 18 days

---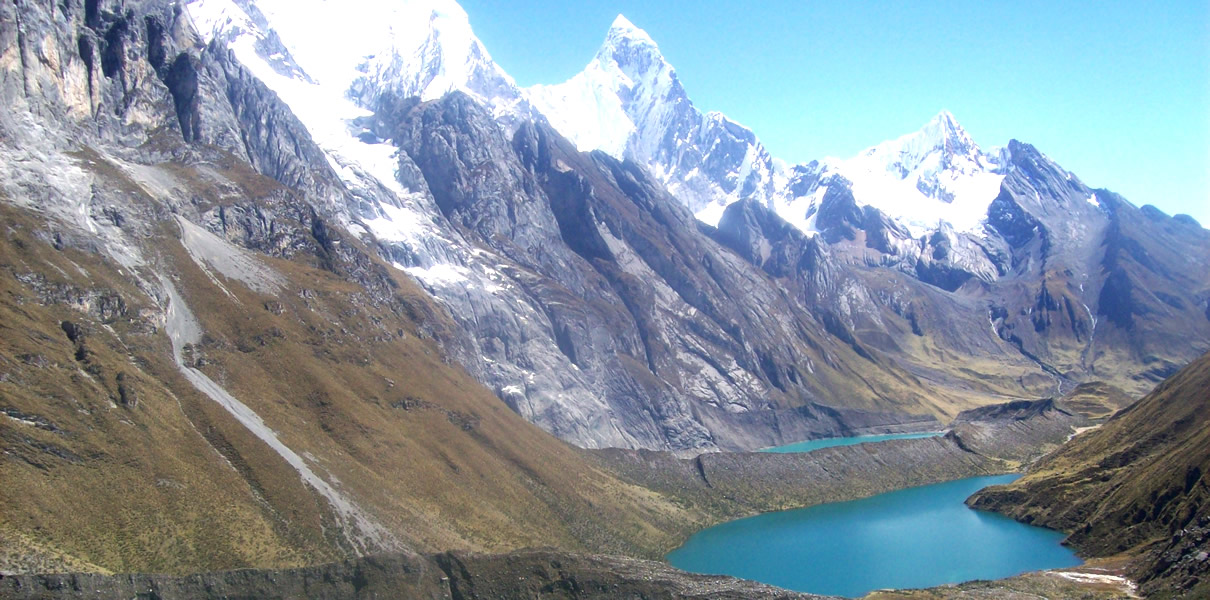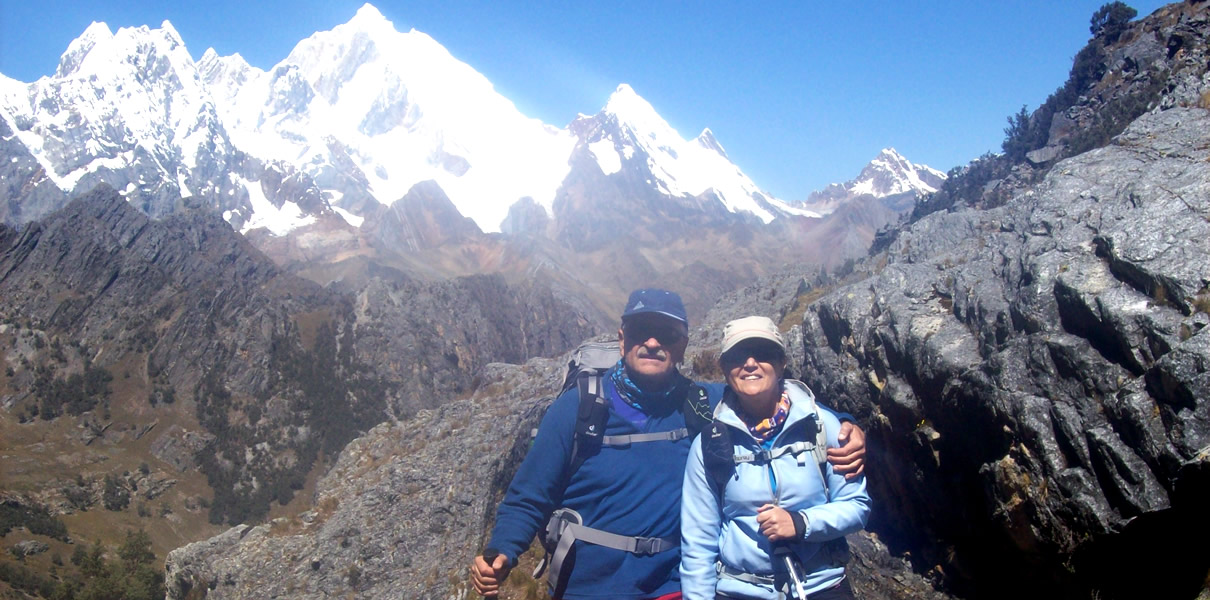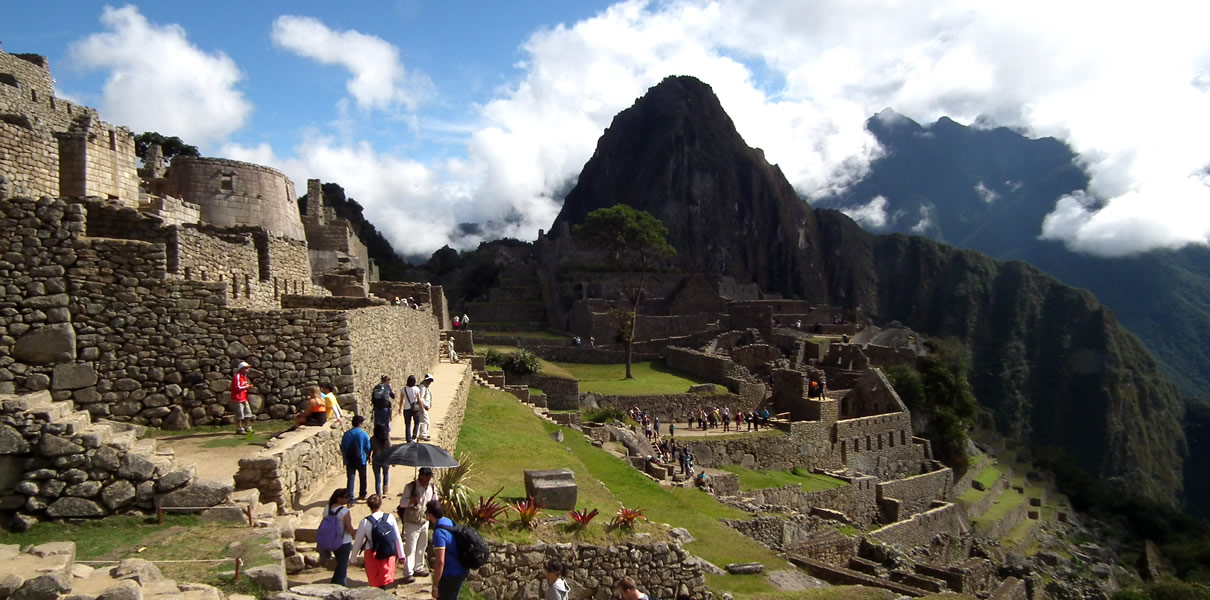 The circuit of the Cordillera Huayhuash, is one of trekking more beautiful of the world per its spectacular Lagoon and mountains, that over pass the 6000mt, during trekking we will have the opportunity To climbing to the mountain Diablo Mudo and Finally We will finalize with the Inca Trail To Machu Picchu

Itinerary:
Day 1: Huaraz _ Chiquian _ Llamac at (3300mt)
Drive to the village of Llamac and set up our first camp (3300m). 4 to 5 hours drive.
Day 2: Llamac _Matacancha at (4150mt)
Following the Llamac River steadily uphill to our first campsite on the grassy meadows of matacancha
Day 3: Matacancha _Punta Cacanan (4700mt) _ Laguna Mitucocha at (4300mt)
Two options for the route, a gradual easy pass on the main trail or an off-trail adventure on steeper terrain with a beautiful lake and a high rocky pass.
Day 4: Laguna Mitucocha _Carhuac Pass (4650mt) _Laguna Carhuacocha at (4150mt)
We cross the pass Paso de Carhuac (4650m) then descend to our camp at the big Carhuacocha Lake (4150m). From our camp we look directly up the lake to the peaks and ice fields of Siula and the two peaks of Yerupajá.
Day 5: Extra day at Laguna Carhuacocha at (4150mt)
Rest Day at Carhuacocha Lake, take a half day hike around the lake, or visit Siula Lake. Catch trout for dinner.
Day 6: Laguna Carhuacocha _ Pass Carnisero (4800m) _ Huayhuash at (4750mt)
Most people take the off trail route passing three differently colored lakes and winding below the peaks of Yurupaja and Siula.
Day 7: Huayhuash _ Pass Portachuelo (4750mt) _ Laguna Viconga at (4395mt)
We descend past Viconga Lake, often the haunt of donkeys and time to relax in the natural hot springs at viconga.
Day 8: Laguna Viconga _Punta Cuyoc (5000m) _ Guanacpatay at (4300mt)
You'll hike over the highest pass in the Huayhuash circuit, reaching 5000 meters of altitude. A beautiful side trail is passable on foot while the donkeys follow a different trail,
Day 9: Guanacpatay _ Cutatambo at (4100mt)
Challenging climb over Cerro San Antonio (5050mt) our highest pass. Breathtaking views to Siula Grande base camp and Siula glacier. Steep descend to camp at Cutatambo.
Day 10: Rest day at Cutatambo.
One of the more beautiful vistas of siula Grande (Joe Simpson – explorer) and visit the glacial lakes of Sarapocha and Santa Rosa
Day 11: Cutatambo _ Huatiac at (4300m)
Descending to Huallapa and back up to a camp. Duration: 5-8 hours. Altitude of Camp: 4300 meters.
Day 12: Huatiac _ Punta Tapush (4750mt) _ Gashgapampa at (4500mt)
A big day's walk, crossing the punta tapush passes (4750mt) after a long, steep climb out of huayllapa. Camp in Gashgapampa.
Day 13: Gashgapampa _ Climb Diablo Mudo (5350mt) _ Laguna Jahuacocha
Climb summit Diablo Mudo at 5,223m, & descend Jahuacocha camp 4100m
Day 14: An extra day at Laguna Jahuacocha. Cerro Amarrillo visit at (5000mt)
We stay at Jahuacocha. Climb up Cerro Amarrillo peak 5000m for views over the whole Huayhuash range and down into Quartelhuain where we were on day 5 (2 to 3 hours). On the top you walk along an exposed ridge for a short way, but it is worth the effort for the breathtaking views.
Day 15: Laguna Jahuacocha _ Pass Pampa llamac (4300mt) _ Descent back to Llamac.
In Llamac the bus will be waiting to take us back to Huaraz for hot showers.
Day 16: Trip to Lima and arrive in the afternoon and transfer to hotel.
Day 17: Flight Lima _Cusco (Transfer to Hotel)
Day 18: Cusco _ KM 82 _ Huayllabamba
The inca trail hike starts with the transfer from your hotel, in the early morning and transfer until kilometer 82 (inca trail check point) in a private bus. We will stop for photos and inca trail control. The first part of the inca trail is considered gentle training section, for about two hours, from the trail there is seen Llactapata "inca archaeological site", also from the trail is possible to appreciate the impressive landscape, flora, fauna and Villages with native people with Inka traditions. The place for lunch is at river bank, and after the hike continues ascending lightly to a semi-tropical valley for two hours until the camp ground, (Huayllabamba 3000 m)
Day 19: Huayllabamba _ Pacaymayu
It starts with an early breakfast, this part fo the inca trail leads to the highest point, passing through different climatic and ecological zones as we ascend the Warmiwañusca pass at 4200 m.a.s.l. the hike will undertake ascent up to the high pass, the first section presents abundant vegetation with trees of wild origin. Because of this reason its known by many as the worlds highest cloud forest amongst the landscapes the flora and fauna starting at 3800 m.a.l.s. after this section of the inca trail, it tends to be less forests up to the high point, is typical of the andean mountains covered with Icchu or straw and mountains with perpetual snow. After arduous approximately 6 hours walk you summit it. Time to have some rest, take photos and start to walk down hill.From there we will observe the beauty of the deep valleys and at distance snow cap mounts. Second camp ground at PACAYMAYU (3600 masl)
Day 20: Pacaymayu _ Wiñayhuayna
The trail climbs steeply up the opposite side of the valley wall, towards the second pass. About halfway upthere is a small round roofless stone building, This Inca archaeological remains is known as Runcuracay. The building is thought to have been an astronomic site. After the trail continues climbing towards the second pass "the Abra de Runcuracay", which is at around 3900m.
Day 21: Wiñayhuayna _ Machu Picchu_Cusco
The final section of the magic inca trail, from Wiñayhuayna to Intipunku is an easy hike, following a broad level path, which winds comfortably through scrub and light woodland. Colorful butterflies flutter across the trail. After no more than an hour, the trail Comes to a narrow flight of stone steps leading upwards into a small stone structure with a grass floor a few meters square. This is Intipunku, the Gateway of the Sun, and through the rectangular doorway you can see the Machupicchu. From Intipunku, a pathway leads directly to Machu Picchu itself, before arriving to machu picchu there is needed to hike for about 1 hour by steeply down hill and before tour in machu picchu is needed to check out the inca trail and after make the tour. The tour usually takes two hours and after free. Leisure time to explore machu picchu, bus drive is provided to get aguas calientes town where the train station is.
Note.
Private departures are available on the dates of your choice. For more information and price writes to our:
info@alpamayoperu.com
/
alpamayoperu@gmail.com
---
In The Price Includes:
Trekking and Mountains Guide certificate
Assistant climbing guides for more clients
Experienced Cook
Camp Guard or Assisted
Donkeys and donkey drivers
Meals (breakfast, all snacks, lunch, afternoon tea, large dinner) during the Treks & Climbs
Tents (personal tent, dining tent with table and chairs, kitchen tent and toilet tent)
Personal tents for clients & personals
All cooking equipment, plates, cups, utensils etc.
Private Transfer during Trekking and climbing (go and back)
All service during the Inca Trail to Machu Picchu
Price does Not Include:
Transfer from airport to hotel
Transfer from Lima / Huaraz / Lima
Personal Equipment of Trekking & Climbing
Tours acclimatization
Huascaran National Park Entrance 65 soles
Extra payment during the Circuito Huayhuash camp to the committees, approximately $ 75 per person, for the entire round
Hotels Lima / Huaraz
Meals and drinks in the city
Additional taxes in cities
Tippins