Huayhuash Trekking, Climb Diablo Mudo & Pumarinry 14 days

---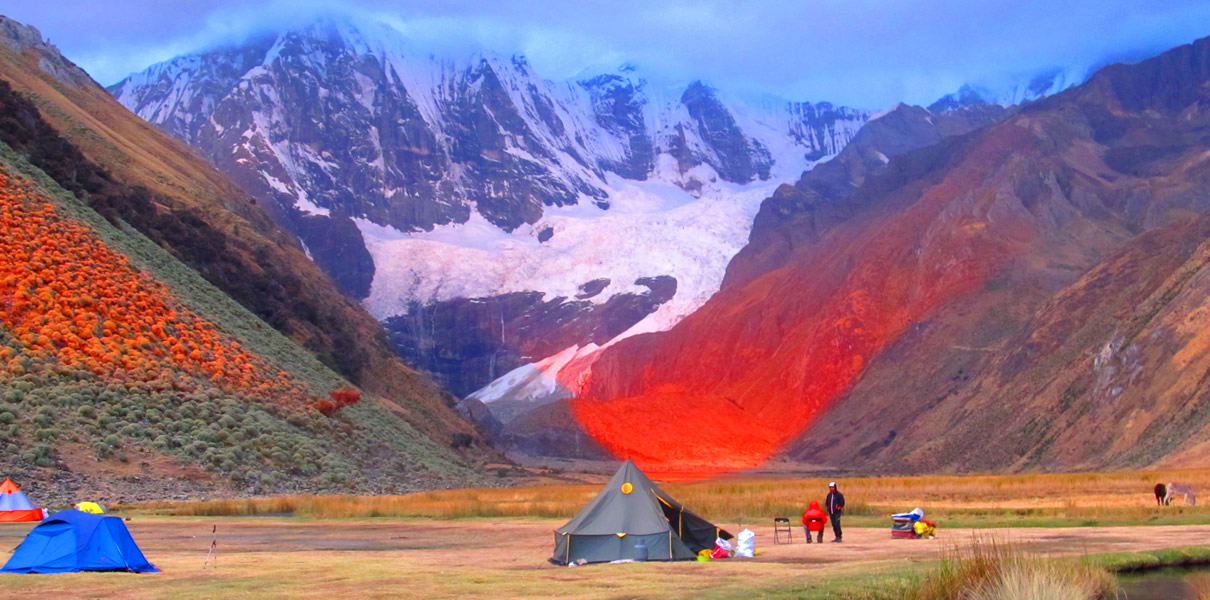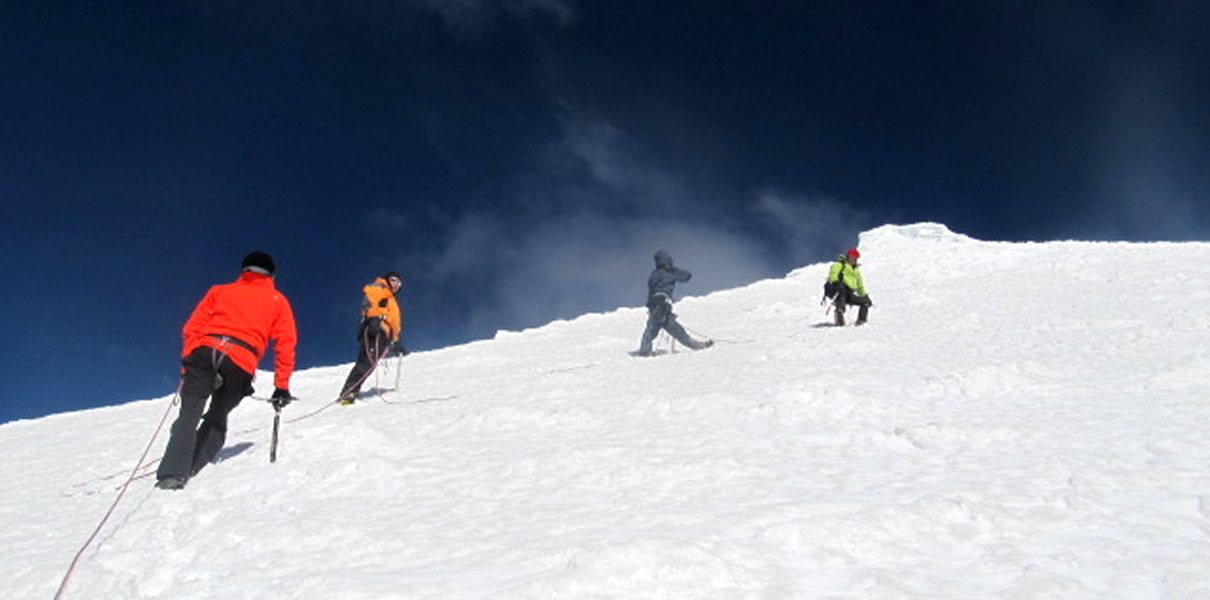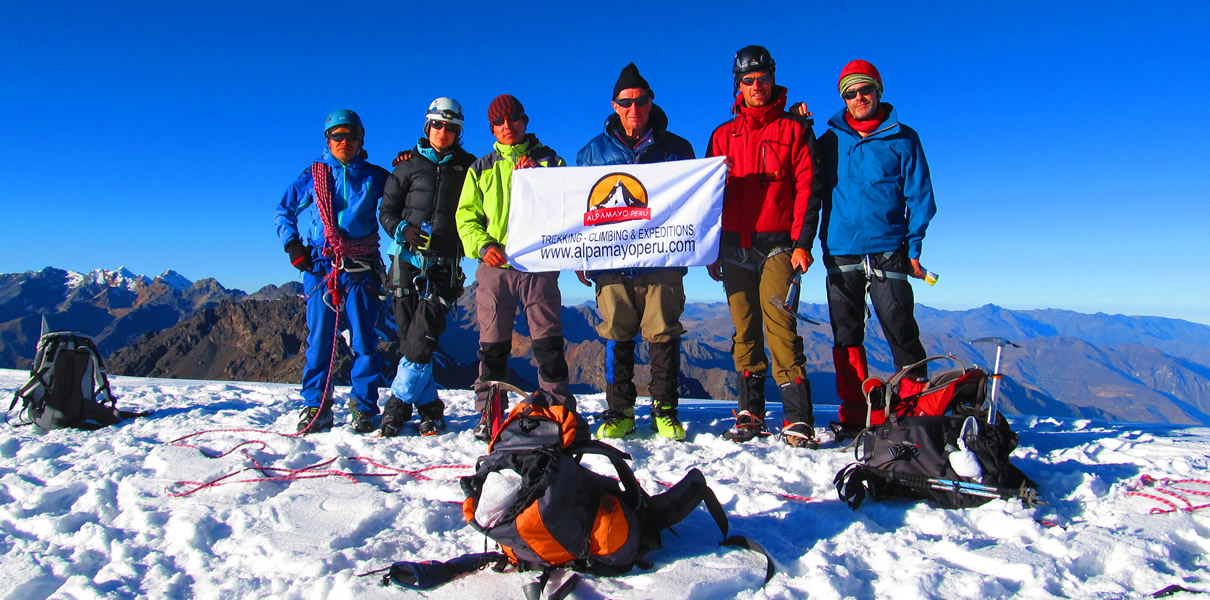 The circuit of the Cordillera Huayhuash, is one of trekking more beautiful of the world per its spectacular Lagoon and mountains, that over pass the 6000mt, during trekking we will have the opportunity To climbing to the mountain Diablo Mudo 5350n and pumarinri 5350m and Finally We will finalize with the Mountain Pisco 5752mt that is in the Cordillera Blanca readily accessible.
Itinerary:
Day 1: Huaraz _ Chiquian _ Llamac at (3300mt)
Drive to the village of Llamac and set up our first camp (3300m). 4 to 5 hours drive.
Day 2: Llamac _ Matacancha at (4150mt)
This is where we will meet the rest of the expedition team, the donkey driver and his donkeys and horses who will carry our equipment for the next two weeks. We will have lunch while the donkeys are packed with our trekking bags. After lunch we will start the first amazing part of the Huayhuash circuit following the Quero River to Matacancha (4150m) where we will stay camp the night. Walking time is 5 hours.
Day 3: Matacancha _Punta Cacanan (4700mt) _ Laguna Mitucocha at (4300mt)
Two options for the route, a gradual easy pass on the main trail or an off-trail adventure on steeper terrain with a beautiful lake and a high rocky pass.
Day 4: Laguna Mitucocha _Carhuac Pass (4650mt) _Laguna Carhuacocha at (4150mt)
We cross the pass Paso de Carhuac (4650m) then descend to our camp at the big Carhuacocha Lake (4150m). From our camp we look directly up the lake to the peaks and ice fields of Siula and the two peaks of Yerupajá.
Day 5: Extra day at Laguna Carhuacocha at (4150mt)
Rest Day at Carhuacocha Lake, take a half day hike around the lake, or visit Siula Lake. Catch trout for dinner.
Day 6: Laguna Carhuacocha _ Pass Carnisero (4800m) _ Huayhuash at (4750mt)
Most people take the off trail route passing three differently colored lakes and winding below the peaks of Yurupaja and Siula.
Day 7: Huayhuash _ Pass Portachuelo (4750mt) _ Laguna Viconga at (4395mt)
We descend past Viconga Lake, often the haunt of donkeys and time to relax in the natural hot springs at viconga.
Day 8: Viconga _ Base Camp pumarinri at (4330mt)
Day 9: Base Camp_Summit Pumarinri (5350mt) _ Guanacpatay at (4300mt)
Today we start hiking early in the morning up to the Glacier of PUMARINRI MOUNTAIN. Climbing pumarinri is not technical but the view from the summit is just astonishing and we will have closer views of yerupaja, rasac, sarapo, jurao and other big mountains. Then we descend to cross our highest pass Punta Cuyoc (5000m) then descend to the valley Quebrada Huanacpatay where we have an easy walk in the afternoon to our camp (4330m)
Day 10: Guanacpatay _ Huatiac at (4300m)
Guanacpatay to Huatiac OR to Laguna Sarapo. An off trail option over the San Antonio pass and down into the gorgeous valley housing Laguna Sarapo, or descending to Huallapa and back up to a camp below the Tapush pass called Huatiac. Duration: 5-8 hours. Altitude of Camp: 4300 meters.
Day 11: Huatiac _ Punta Tapush (4750mt) _ Gashgapampa at (4500mt)
A big day's walk, crossing the punta tapush passes (4750mt) after a long, steep climb out of huayllapa. Camp in Gashgapampa.
Day 12: Gashgapampa _ Climb Diablo Mudo (5350mt) _ Laguna Jahuacocha
Our climb summit Diablo Mudo at 5,223m, & descend Jahuacocha camp 4100m
Day 13: Rest Day - Trout fishing, or there are options for walks
Day 14: Laguna Jahuacocha _ Pass Pampa llamac (4300mt) _ Descent back to Llamac.
In Llamac the bus will be waiting to take us back to Huaraz for hot showers.
Note.
Private departures are available on the dates of your choice. For more information and price writes to our:
info@alpamayoperu.com
/
alpamayoperu@gmail.com
---
In The Price Includes:
Trekking and Mountains Guide certificate
Assistant climbing guides for more clients
Experienced Cook
Experienced climbing porters
Camp Guard
Donkeys and donkey drivers
Meals (breakfast, all snacks, lunch, afternoon tea, large dinner) during the Treks & Climbs
Tents (personal tent, dining tent with table and chairs, kitchen tent and toilet tent)
Personal tents for clients & personals
All cooking equipment, plates, cups, utensils etc.
Private Transfer during Trekking and climbing (go and back)
Price does Not Include:
Transfer from airport to hotel
Transfer from Lima / Huaraz / Lima
Personal Equipment of Trekking & Climbing
Tours acclimatization
Huascaran National Park Entrance 65 soles
Extra payment during the Circuito Huayhuash camp to the committees, approximately $ 75 per person, for the entire round
Hotels Lima / Huaraz
Meals and drinks in the city
Additional taxes in cities
Tippins