Inca Trail To Machu Picchu 4 Days

---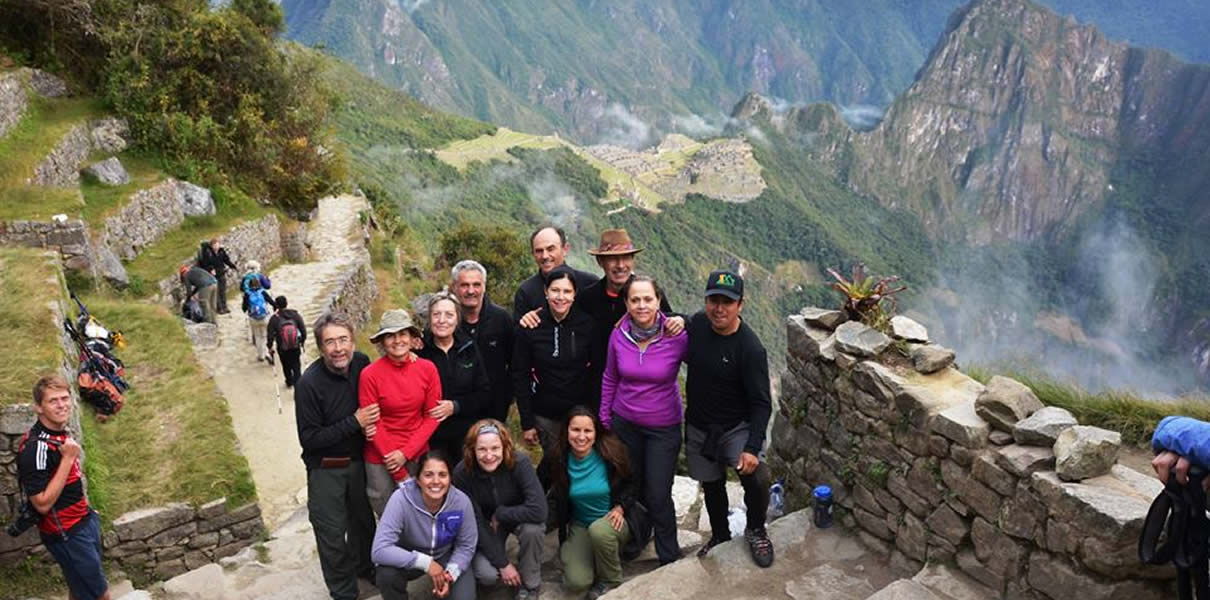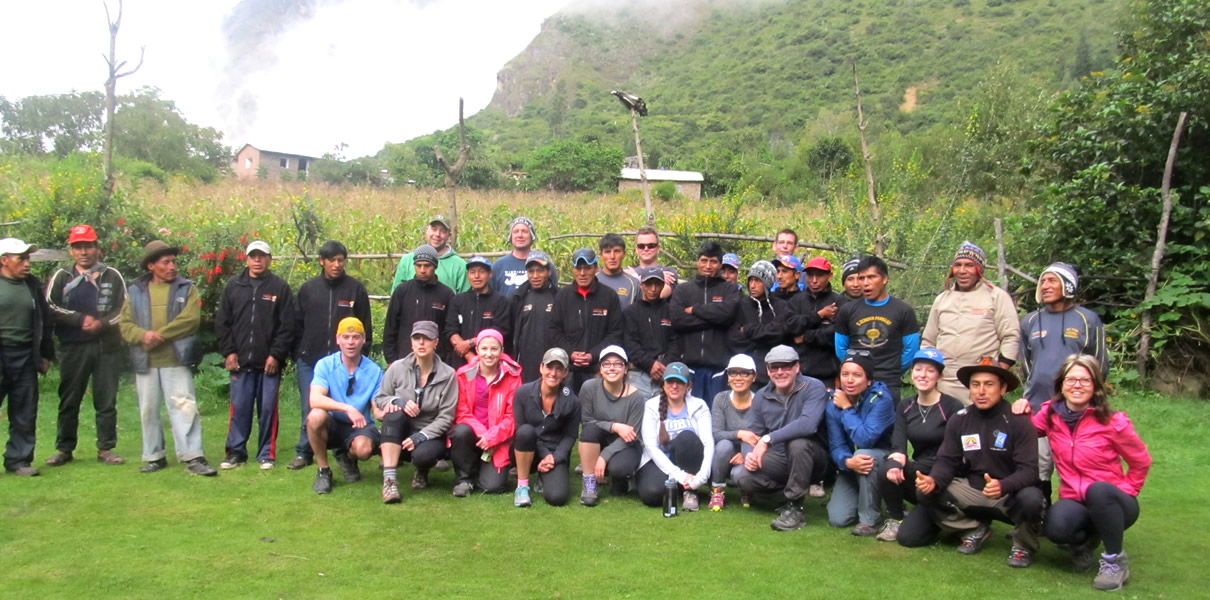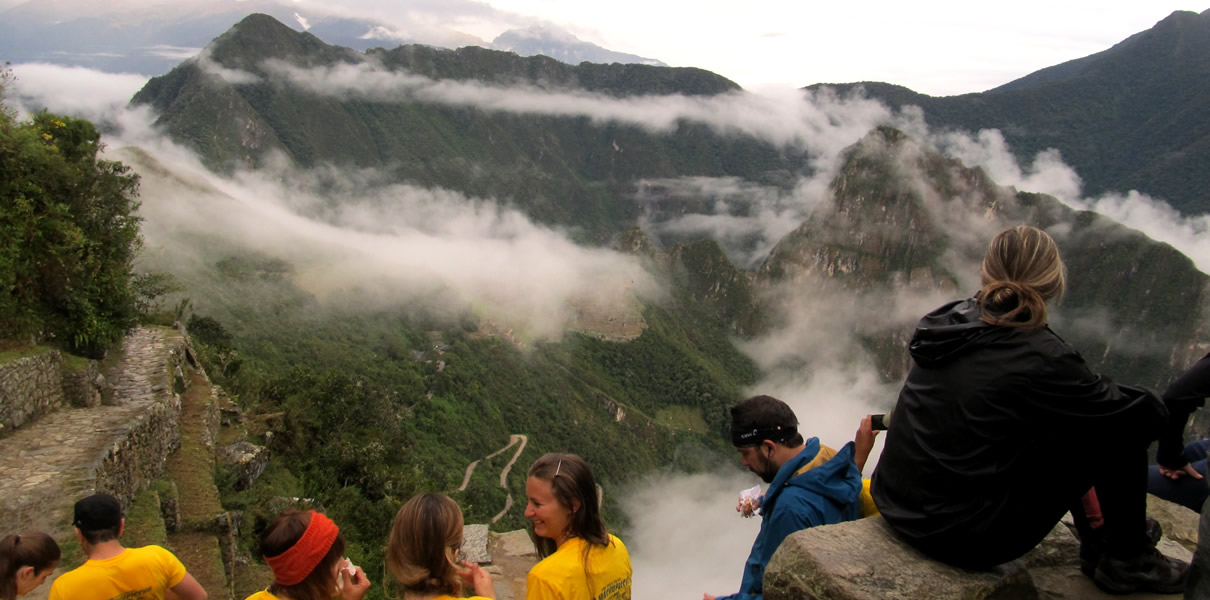 Visitors come from all parts of the world to Peru, not only to see Machu Picchu but to walk the Inca Trail, the most famous hike in South America. They come to see the ruins and the scenery which makes this trail so famous. The total distance of the Inca trail is approximately 43 kilometres, departing from the place known as Kilometre 82. To begin the trip, one crosses the narrow bridge at Kusicancha, and afterwards heads towards the left hand side of a forest of Eucalyptus trees. Camping on this night is either in Wayllabamba or Llullucha. The second day is more difficult, as you have to climb to 4200 metres at the Pass of Warmiwañusqa (Dead Woman's pass). The third day is the longest, but also the most interesting for many people as you can visit impressive ruins like Runkuracay and Sayaqmarca. Camping is either in Phuyupatamarca or Wiñayhuayna. On the final day many groups leave early to see the sun rise over Machu Picchu from the Inti Punku (sun gate). The remainder of the day is spent exploring this fabulous ancient city.
Itenerary:
Day 1: Cusco _ KM 82 _ Huayllabamba
The inca trail hike starts with the transfer from your hotel, in the early morning and transfer until kilometer 82 (inca trail check point) in a private bus. We will stop for photos and inca trail control. The first part of the inca trail is considered gentle training section, for about two hours, from the trail there is seen Llactapata "inca archaeological site", also from the trail is possible to appreciate the impressive landscape, flora, fauna and Villages with native people with Inka traditions. The place for lunch is at river bank, and after the hike continues ascending lightly to a semi-tropical valley for two hours until the camp ground, (Huayllabamba 3000 m)
Day 2: Huayllabamba _ Pacaymayu
It starts with an early breakfast, this part fo the inca trail leads to the highest point, passing through different climatic and ecological zones as we ascend the Warmiwañusca pass at 4200 m.a.s.l. the hike will undertake ascent up to the high pass, the first section presents abundant vegetation with trees of wild origin. Because of this reason its known by many as the worlds highest cloud forest amongst the landscapes the flora and fauna starting at 3800 m.a.l.s. after this section of the inca trail, it tends to be less forests up to the high point, is typical of the andean mountains covered with Icchu or straw and mountains with perpetual snow. After arduous approximately 6 hours walk you summit it. Time to have some rest, take photos and start to walk down hill. From there we will observe the beauty of the deep valleys and at distance snow cap mounts. Second camp ground at PACAYMAYU (3600 masl)
Day 3: Pacaymayu _ Wiñayhuayna
The trail climbs steeply up the opposite side of the valley wall, towards the second pass. About halfway upthere is a small round roofless stone building, This Inca archaeological remains is known as Runcuracay. The building is thought to have been a astronomic site. After the trail continues climbing towards the second pass "the Abra de Runcuracay", which is at around 3900m.
Day 4: Wiñayhuayna _ Machu Picchu_Cusco
The final section of the magic inca trail, from Wiñayhuayna to Intipunku is an easy hike, following a broad level path, which winds comfortably through scrub and light woodland. Colorful butterflies flutter across the trail. After no more than an hour, the trail Comes to a narrow flight of stone steps leading upwards into a small stone structure with a grass floor a few meters square. This is Intipunku, the Gateway of the Sun, and through the rectangular doorway you can see the Machupicchu. From Intipunku, a pathway leads directly to Machu Picchu itself, before arriving to machu picchu there is needed to hike for about 1 hour by steeply down hill and before tour in machu picchu is needed to check out the inca trail and after make the tour. The tour usually takes two hours and after free. Leisure time to explore machu picchu, bus drive is provided to get aguas calientes town where the train station is.
Note.
Private departures are available on the dates of your choice. For more information and price writes to our:
info@alpamayoperu.com
/
alpamayoperu@gmail.com
---
In The Price Includes:
Transfer Cuzco Hotel / Km. 82
Entrance ticket to Inka Trail
Entrance ticket to Machu Picchu
Bus ticket Machu Picchu - Aguas Calientes
Train ticket Aguas Calientes – Cusco
Transfer train station / Hotel
Porters (carry tents and cooking equipment) and cooks
Guided visit to Machu Picchu and the ruins along the trail.
Bilingual professional guide during all Inca Trail circuit.
All meals along the excursion.
Camping equipment including tents, kitchen tent, mattresses, etc.
Equipment of the kitchen all quirurgits
Vegetarian food available on request with no extra charge.
Transfer station – Hotel in cusco
Price does Not Include:
Transport airport
Hotel in Lima
Flight Lima, Cuzco, Lima
Hotel in Cuzco
Personal Equipment of trekking
Additional Taxi
Lunch and Dinner on the last day
Visit to the Hot Springs in Aguas Calientes
Tips.
We Recommend that you Bring:
A backpack with a change of clothes for the whole period of the trek
Rain jacket or Poncho (Plastic rain Ponchos can be purchased in Cusco or on the way to the trail starting point)
Strong footwear, ideally trekking or sport shoes
Warm clothes, including sweater and jacket
Sleeping bag
Mattress (by us but to be carried by you)
Flashlight and batteries
Camera, film and batteries
Hat or cap to protect your face from the sun/cold
Sun block
Insect repellent
Toilet paper
Snacks: biscuits, energy bars, chocolate, etc
Water bottle and sterilizing tablets (ie. Micropur)
Additional Options
1) porters can be hired to help carry your personal items such as clothes, sleeping bag etc. The services of a third of a porter (maximum 18kg or 20lb per person) can be hired for US$180. If you hire the services of a third of a porter (you will need to supply the small padlock). However, even with this service you will still need to take a daypack to carry your essential items such as rain poncho, warm fleece, camera and water bottle.

Please note that due to new government regulations the maximum number of porters that we can use in each group has now been capped. This is why we have had to limit the maximum amount of personal equipment that you can give to a porter to carry for you to 5kg per person. (The maximum amount that each porter can carry on the Inca Trail has also been limited to 18kg or 20lb per porter). Approximately 40% of our clients hire the services of an extra third porter.
Equipment Rent:
Sleeping bags $20 for 4 days.
Extra porter USD$ 180 (one porter could carry up to 20 kg)
Important Information for Inca Trail Machu Picchu:
They allowed only 500 people per day Inca Trail. This number includes tourists, guides, porters and cooks. The quotas are for everyone, people who want to do the Inca Trail. So to walk the Inca Trail is essential to book months in advance.

The availability of quotas for the Inca Trail is the same for all agencies. Thus, if there were available no agency can get space for the Inca Trail.

We will buy your Inca Trail trek permit using the names & passport numbers that you send us with your trek booking application. You must bring these same passports with you to Cusco and take them on the Inca Trail. If the name or number in your passport is different from the name and number on the trek permit, the government authorities will not allow you to start the trek and you will not be entitled to a refund. If you plan to renew your passport between making the trek booking and actually starting the trek you will must bring both passports (New and Old). If you make a trek booking at the student price you must send us a copy of your ISIC card at the time you pay the trek deposit. If you fail to bring your ISIC card on the trek the government authorities will not allow you to start the trek. You will not be given the opportunity to pay the extra difference in Price.

On the other hand, you must have the following information to reserve as in your passport and from each participant in your group:

Trek departure date
Prior arrival date in Cusco
Name (as in your passport)
Middle Name
Surname
Passport Number
Citizenship
Birth date
Special Food Requirement
Height
Gender: Male / Female
Student with ISIC card: No / Yes
Accommodation in Cusco (Address and Phone Number)



Important:

Kindly take note that once your spot is reserve and confirmed is non refundable neither allow to do any modifications like names, passport numbers or so. We appreciate your cooperation in this fact as we are also working with the new regulations.