Quitaraju Climbing 6,040mr 7 Days

---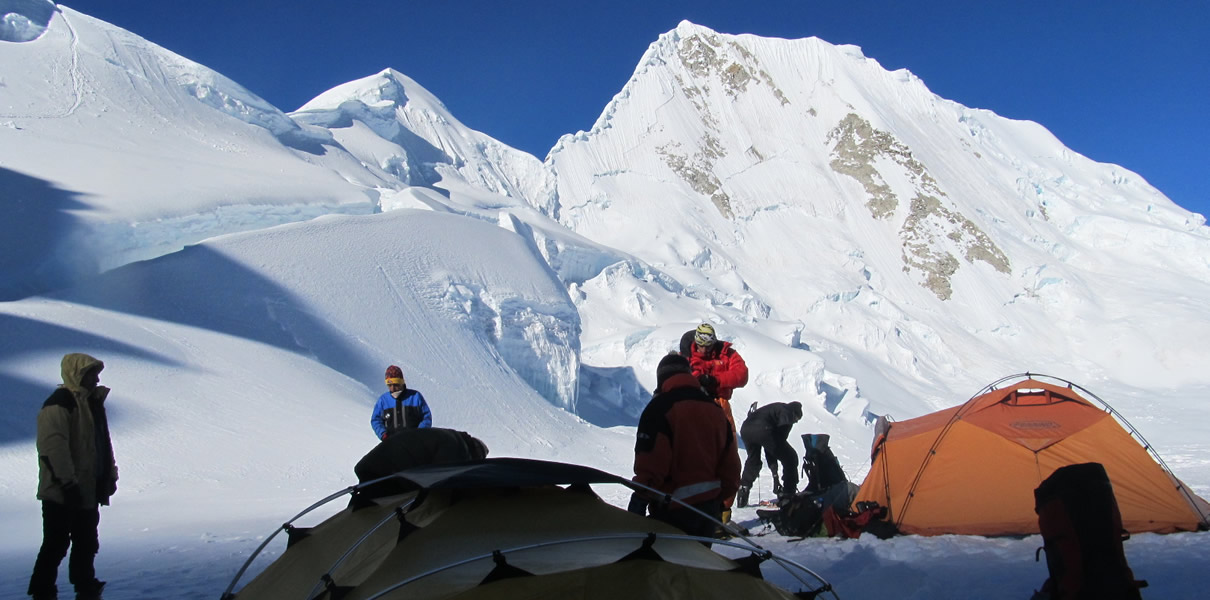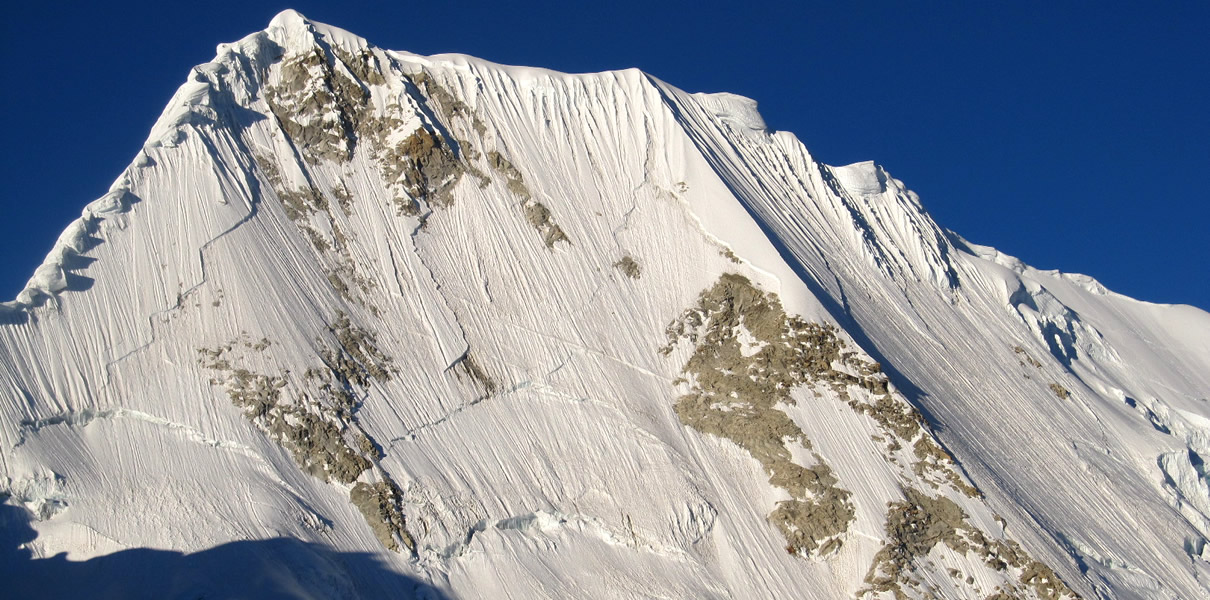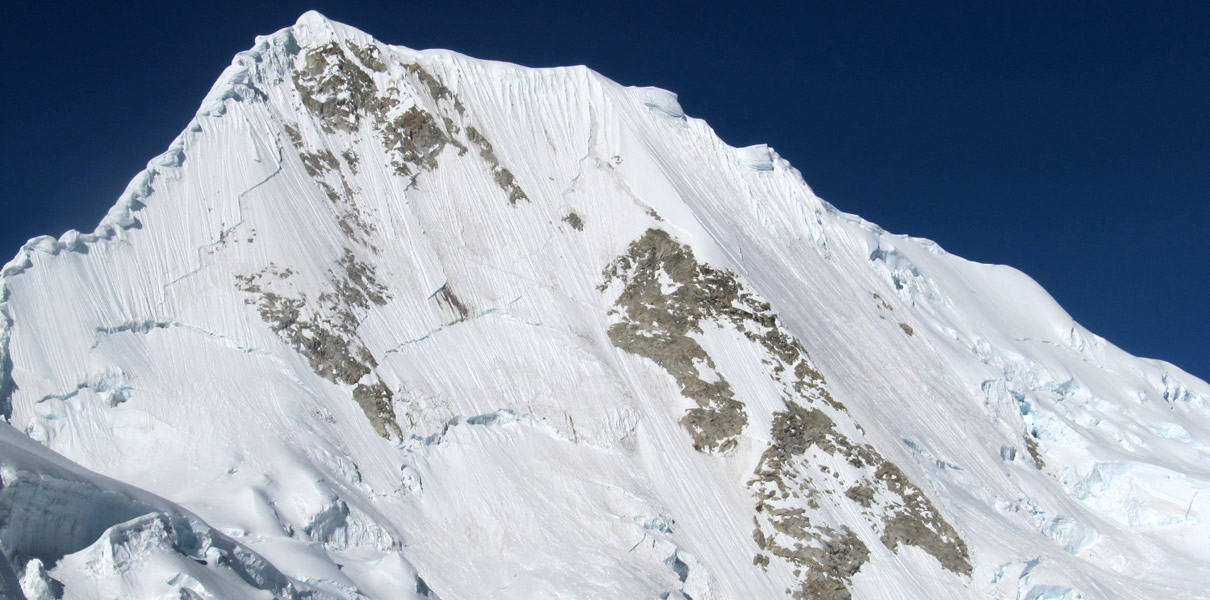 Their proximity to the Alpamayo and the fact to share he himself ice field has turned it another great classic one of this mountain range. Its normal route passes by its edge the west, but it is the North wall and his 800mts of via which more flame the attention of the climbers who appreciate it from field one of Alpamayo or the same wall of this beautiful mountain since they are "face to face". The reduction by the edge enough is exposed and good experience in scaling techniques is required.
Itinerary:
Day 01: Huaraz / Transfer Cashapampa / Trekking to Llamacorral Camp (3750mt) Camp
Drive to our trailhead in the village of Cashapampa (9,000 feet). This 3 hour drive takes us through beautiful farming communities as we head between the spines of the Cordillera Negra and the Cordillera Blanca. After organizing our burros, we hike with day packs to Llama Corral (3750mt), where we camp for the night.
Day 02: Llamacorral / Trekking to Alpamayo Base Camp (4200mt) Camp
A fairly short day, about 3 at 4 hours with day packs. Base camp is made at (4200mt) in a valley at the base of Alpamayo on the opposite side of the route. Base camp is scenic, with greenery, running water and outhouses.
Day 03: Alpamayo Base Camp / Ascend to Alpamayo Moraine Camp (4600mt) Camp
From base camp, the route takes a moraine ridge and crosses rock slabs across the edge of the glacier to reach an area of tent platforms (3 hours). This camping area is very limited and we may opt to climb all the way to Col camp in one day.
Day 04: Moraine Camp / Ascend to Alpamayo High Camp (5300mt) Camp
The route above moraine camp continues over ice and moraine before a 300-metre snow couloir leads to the Col between Alpamayo and nearby Quitaraju (6,040m). This section can sometimes be the most technical and difficult part of the route. After gaining the col, there is a short descent to reach high camp.
Day 05: High Camp / Ascend to Quiataraju Summit (6040mt) / High Camp (5300mt) Camp
Alpamayo Summit Day Depart from camp at 2:00am and head to the steep summit wall, which offers 360 meters of fun technical climbing to the summit. Camp in the high Camp
Day 06: High Camp / Descend to Alpamayo Base Camp (4200mt) Camp
We will descend today, to base camp (4 hours), Where our lunch awaits us and in the afternoon relaxes
Day 07: Base Camp / Descent through Quebrada Santa Cruz / Cashapampa / Transfer to Huaraz Hotel Huaraz
We trek out to Cashapampa and then return to Huaraz.Time to relax after the climbing and celebrate.
Note.
Private departures are available on the dates of your choice. For more information and price writes to our:
info@alpamayoperu.com
/
alpamayoperu@gmail.com
---
In The Price Includes:
UIAGM mountain guide
Assistant climbing guides for more clients
Experienced Cook
Experienced climbing porters
Camp Guard
Donkeys and donkey drivers
Meals (breakfast, all snacks, lunch, afternoon tea, large dinner) during the Climbs
Tents (personal tent, dining tent with table and chairs, kitchen tent and toilet tent)
Personal tents for clients & personals
All cooking equipment, plates, cups, utensils etc.
Private Transfer during climbing (go and back)
Price does Not Include:
Transfer from airport to hotel
Transfer from Lima / Huaraz / Lima
Personal Equipment of climbing
Tours acclimatization
Huascaran National Park Entrance 65 soles
Hotels Lima / Huaraz
Meals and drinks in the city
Additional taxes in cities
Tipping