Santa Cruz Ulta Trek 6 Days

---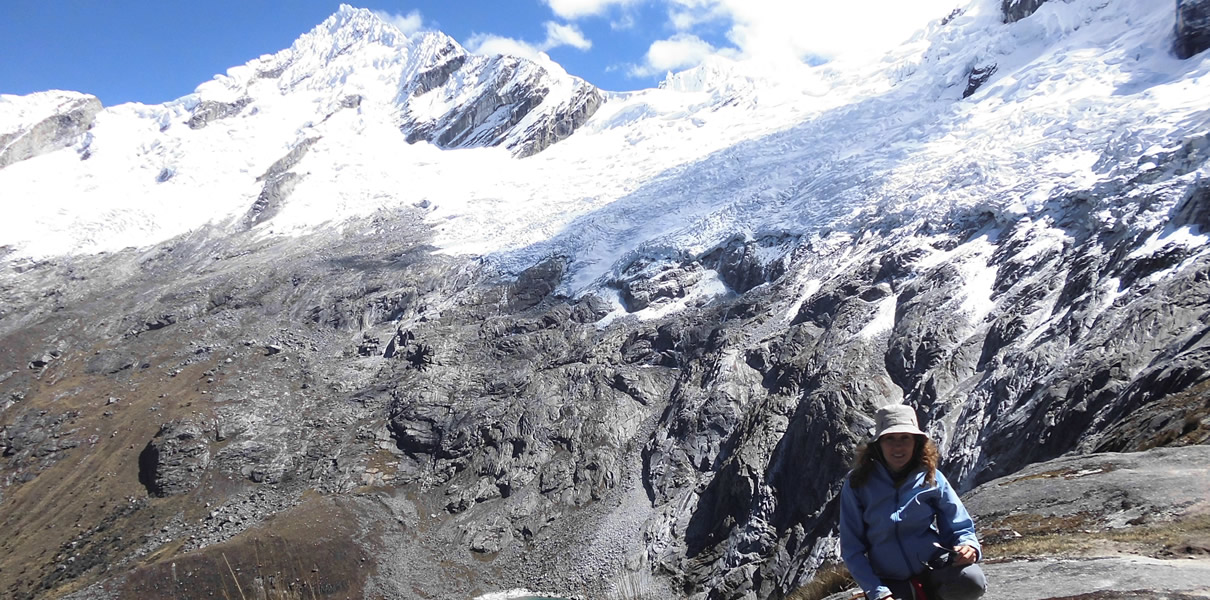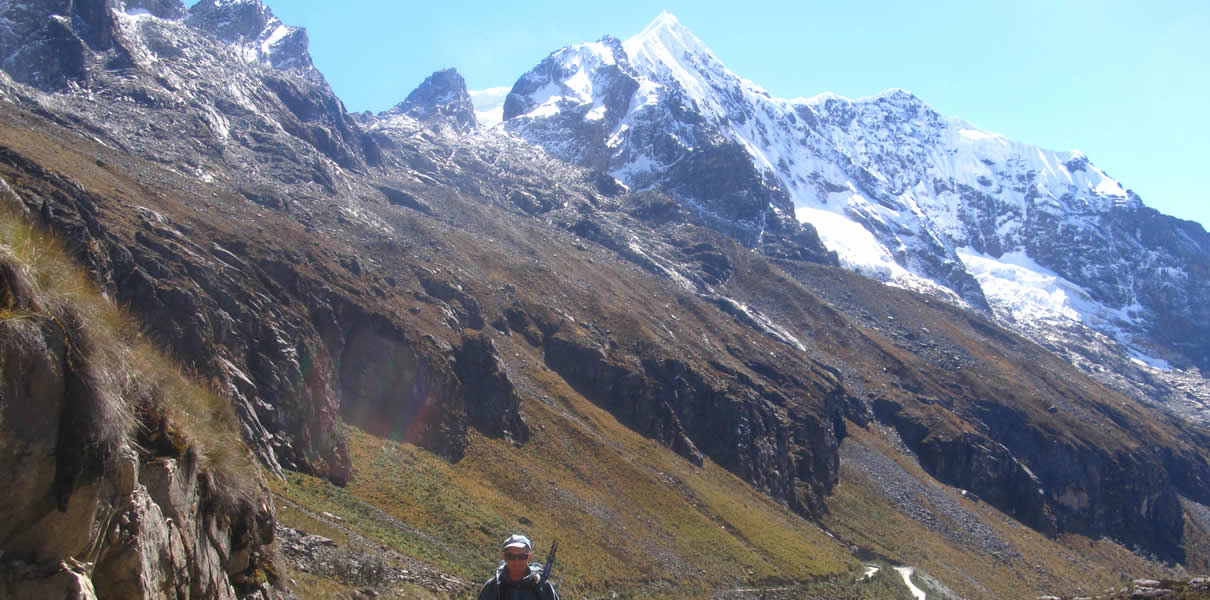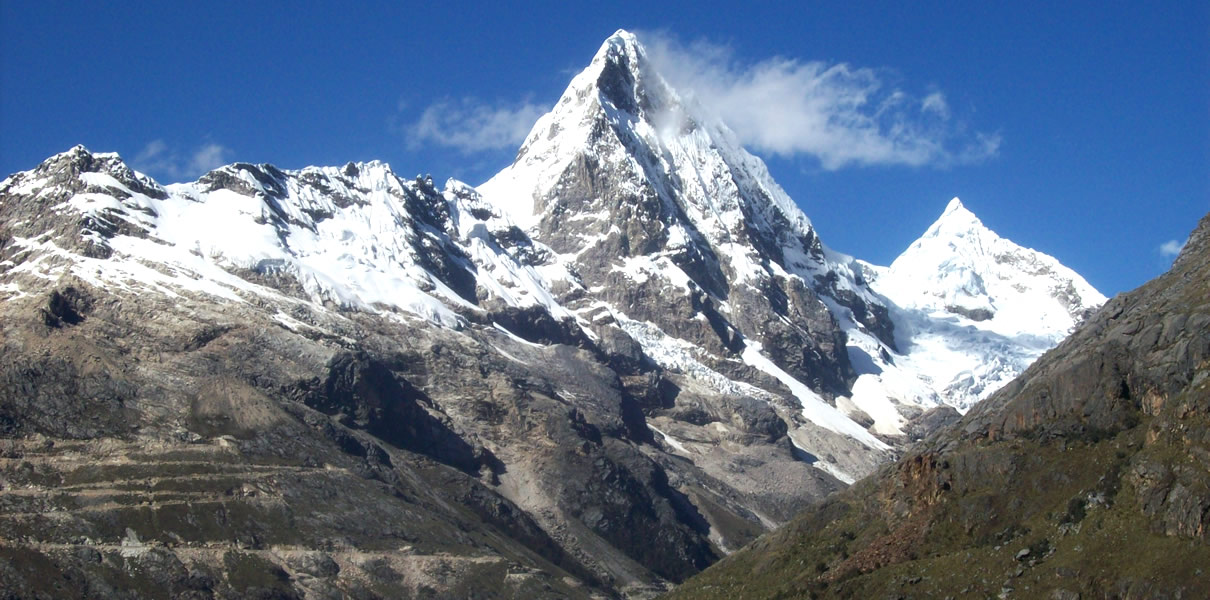 The Trekking Santa Cruz Ulta. One of the most popular long walks in the Cordillera Blanca by its spectacular mountains as Alpamayo, Artesonaraju, Taulliraju and other mountains more, and lagunas crystalline , in where we will pass 2 steps as Punta Unio 4750mt and the Yanayacu 4850mtt, this long walk is of 6 days within the Cordillera Blanca.
Timing: 6 days / 5 nights
Season: April / October
Trekking Grade: Medium
Itinerary:
Day 01: Huaraz / Transfer to Cashapampa / Trekking to Llamacorral Camp (3000mt) Camp
After the breakfast in the hotel we will aboard in our private bus to go along the Callejón de Huaylas in the north side of Huaraz. passing different traditional Andean towns, first arriving and making the first stop in Carhuaz (2650m), here we will find the traditional made at home ice-crams from local fruits, and authentic and ecological handcrafts shown in el abuelo handcrafts shop, el abuelo is a shop located in the main square, where we will enjoy Carhuaz' native products, then we will continue with our travel passing the Yungay, this city was buried by an avalanche that fell down from Huascaran mountain in 1970, the new Yungay (2500m), after this city, we will get the Caraz city (2400m)where we will buy some things, then we will continue our travel to get the last Cashapampa District arriving around 10am , where we will meet our donkey and donkey drivers to transport our hiking equipments, from here we will start hiking up after walking 2hours half we will have lunch, then we will continue hiking up, after hiking up for 5 or 6 hours we will get the first camp the named Llamacorral, arriving around 4pm. Overnight camping at (3800m).
Day 02: Llamacorral / Trekking to Taullipampa Camp (4100mt) Cam
p
After the breakfast in the morning we will start hiking up at 9am.after hiking up 2 hours we will get the Ichiccocha and Jatuncocha lake, after visit these lakes we will continue hiking up to get the way Alpamayo and Taullipampa, where we will have lunch, then we will climb up for about 1 hour to get the Base Camp Alpamayo, where we will enjoy the splendid views of Alpamayo and Quitaraju Mountains in the south side Artesonraju, Paron and Aguja mountains. After enjoy this views we will go down and hiking up for about 1 hour half to get the second camp the named Taullipampa, arriving around 3 or 4pm. Overnight camping at (4200m).
Day 03: Taullipampa / Trekking Punta Union Pass (4750m) /Cachinapampa Camp (2800mt) Camp
After the breakfast in the morning we will start hiking up at 8am. After hiking up 4 hours we will get the Punta Union pass (4750m) where we will have lunch enjoying the splendid views of the mountains, landscapes, matching its natural mountain colors in the blue sky, the white mountains, Dark green hills, turquoise lakes, feeling the Andean fresh air at this altitude, after this we will go down for about 3 hours half aprox to get the last camp the named Cachinapampa, Overnight camping at (3800m).
Day 04: Cachinapampa / Trekking to Molino Pampa Camp (3600m) / Camp
This day can be easy day at the first we walk down on wide meadow and flat green lush valley with some sections of quenual & quisuar forest, whose lovely twisted trunks with their orange bark the trail is almost easy until reach huaripampa village, we will pass directly. We will keep down until reach the bottom the valley just crossing the bridge at colcabamba, after that we will walk up on gradual grade trail until reach molinopampa.
Day 05: Molino Pampa / Trekking to Avalancha Camp (4650m) / Camp
After our hearty breakfast we will start walking up on gradual ascend trail but with gorgeously view of mounts group of contrahierbas to the left side, and spectacular view of water falls. The trail winds up through the incredible Andean vegetation, until reach the ichic ulta glacier lakes, a pair of sparkling in the verdant of ulta gorge.
Day 06: Avalancha / Trekking Yanayacu Pass (4850m) / Descend to Valley Ulta / Transfer to Huara Hotel Huaraz
This day we will walk up on rock slide trail, where the ascent is dramatic, as the path traverses a steep rock face until reach the pass, where we will be able to take the most amazing pictures about giant summits of Huascaran and chopicalqui after that we will drop on slippery trail until yanacocha lake then we keep down on green lush ulta valley on until the bridge where awaits our private transportation to bring us to Huaraz.
Note.
Private departures are available on the dates of your choice. For more information and price writes to our:
info@alpamayoperu.com
/
alpamayoperu@gmail.com